Desiderio da Settignano
sculptor and architect; b. 1428; d. 1464.
Very little is known about his life. His most important work is the monument, in the church of S. Croce (Florence), of Carlo Marsupini (d. 1453), chancellor of the Florentine republic. He made also a charming tabernacle in the church of S. Lorenzo (Florence). Desiderio is mentioned among the sculptors who worked on the arch of the Castel Nuovo, Naples. He died prematurely at thirty-five.


Giovanni di Pietro Dei Dolci
woodworker (intarsiatore); sculptor and civil and military architect; d. about 1486.
He first appears in the records of the reign of Nicholas V (Pope 1447-1455), and was employed by Pius II (Pope 1458-1464). Under Paul II (Pope 1464-1471) he held the office of soprastante delle fabbriche, and worked at the Vatican and the Palazzo di S. Marco (Rome). Under Sixtus IV (Pope 1471-1484) he built the Sistine chapel (Vatican, Rome), which is incorrectly attributed by Vasari to Baccio Pontelli. Two bulls of Sixtus IV, dated November 14, 1481, are in existence, which confide to Giovannino the reconstruction of the citadel of Cività Vecchia. October 17, 1482, he was created châtelain of that fortress.


Hermann Vischer
sculptor and bronze caster; d. 1487.
Hermann received the citizenship of Nürnberg (Germany) in 1453. A font in the parish church of Wittenberg bears his name and the date 1457. By him, also, are two monuments of bishops in the cathedral of Meissen (Saxony).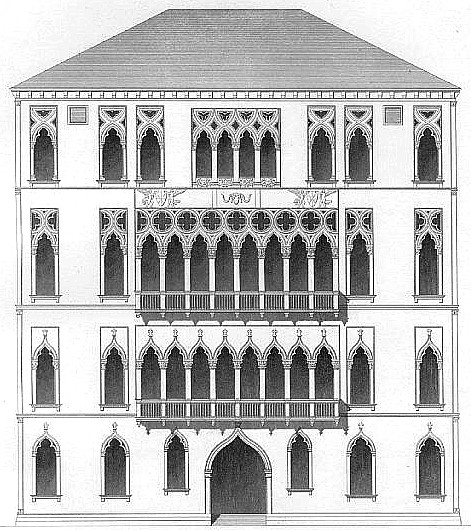 Palazzo Foscari (Venice: 1453).