Salomon de Caus (also Caux)
engineer, architect, and landscape architect; b. 1576; d. February 27, 1626.
He probably derived his name from the Pays de Caux (littoral of the department of Seine Inférieure, France). He made a special study of mechanics and architecture, travelled extensively, and drifted to England where he became architect and engineer in ordinary to Henry, Prince of Wales. He was also drawing master to the Princess Elizabeth, and followed her to Heidelberg (Germany), where she married (April, 1612) the Elector Palatinate Friedrich V. Salomon laid out the great garden of the castle at Heidelberg, and probably made additions to the castle itself. He returned to France about 1620, and acquired the title ingénieur et architecte du roi. In his Raisons des forces mouvantes Salomon describes a machine for raising water by means of the expansive power of steam, thus taking the first step toward the invention of the steam engine. His principal works are La Perspective avec la raison des ombres et miroirs (London, 1611-1612, folio); Institution Harmonique (Heidelberg, 1614, folio); Les Raisons des forces mouvantes (Frankfurt, 1615); Hortus Palatinus, etc.


Onorio Lunghi
architect; b. 1569; d. 1619.
A son of Martino Lunghi the elder. He built the church of S. Maria Liberatrice, the Palazzo Verospo, now Torlonia,about 1616, and the church of S. Carlo al Corso, begun 1612, all in Rome.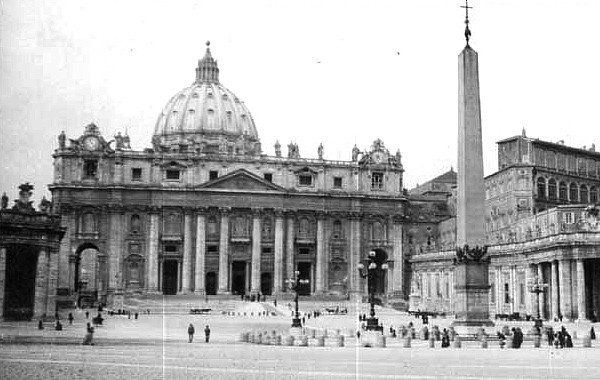 Carlo Maderna, facade of St. Peter's (Rome: 1606-12).