2007.08.22 10:13
"...a shift into spontaneous mode,
[dis]content .20
To: design-l
Subject: Re: the McMansion Effect ((space))
Date: 2003.10.05 14:47
To: design-l
Subjust: Re: test (poem?) by whomevers
Date: Sat, 17 Apr 1999 07:44:29
[architecture as interface comes with the architecture of schizophrenic interfacing...]
[buildings constantly move, doors can be windows, windows can be doors, stairs to Pilate are climbed annually on knees, walls may soon all talk, floors will mostly remain flat, ceilings with sprinklers are virtual skies that harbor emergency rain, roofs probably more than anything manifest architecture's shape, lights, camera, Africa, machines to create architecture with, furniture and painting as one, utilities that never fail (sic), plants, of course, grass gets high, sidewalk, siderun, sidecrawl, sidesit, sideroll-over, driveway complete with Jeep, garage sale as museum,..]
2003.10.05
..and then there's all the stuff that is now created and stored digitally, which sometimes gets put in digital museums.
Are the large homes and all their contents of today something like subliminal evocations of museums? "A man's home is his castle." And just look at how many actual castles and palaces are now actual museums.
"I want a McMuseum, hypersized."
Take a moment or two to count the 'collections' presently in your home.
[Could Quondam or Museumpeace get in the business of designing and executing museums for anyone that virtually wants one?]
joke from the early 1980s:
A: What comes after museum?
Q: pre-shrine
a little quondam history of the steps:

Villa Hélène
The last time I was in Rome I was staying at the Villa Hélène, Via P. Stanislao Mancini, 20, near the Tiber just a few blocks outside the Popolo Gate.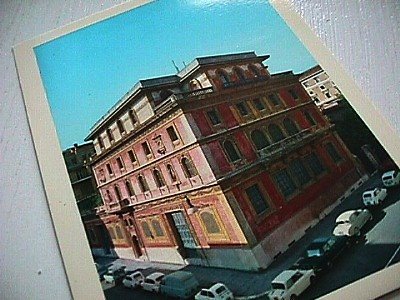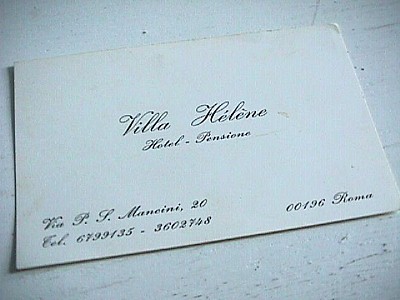 In the current Roma thread at archinect.com AP wrote:
"all the obvious stuff...also, be sure not to miss St. John Lateran, if you're into the whole church thing...beautiful church, across the street are the Scala Santa - steps that once lead to Pontius Pilate's home in Jerusalem. History suggests that Jesus scaled these steps just before his judgement. St. Helena brought 'em back to Rome, along with other relics...you can only scale the steps on your knees, typically stopping at each for prayer..."

According to Hans A. Pohlsander, Helena: Empress and Saint (1995), p. 81: "A short distance from the Basilica of St. John Lateran, in the Piazza San Giovanni, we find the Scala Santa, a building erected by Domenico Fontana under Pope Siztux V (1585-1590). It is a place of pilgrimage, where the faithful ascend the central stairs of the building only on her knees. The 28 marble steps of these stairs were salvaged from the original Lateran Palace. According to tradition they were brought by Helena from the palace of Pontius Pilate in Jerusalem. This tradition can be traced back no further than the 13th century."

You know, it really wasn't St. Helena that brought the steps to Rome because it was really Helena's granddaughter Helena, the youngest of Constantine and Fausta's children and the wife of (first cousin) Julian the Apostate. While Julian was busy rebuilding the Jewish Temple of Jerusalem, Helena had the Pontius Pilate palace steps shipped to Rome for safekeeping at the Domus Fausta, her mother's quondam palace at the Lateran.

"Never been there, but done that anyway."