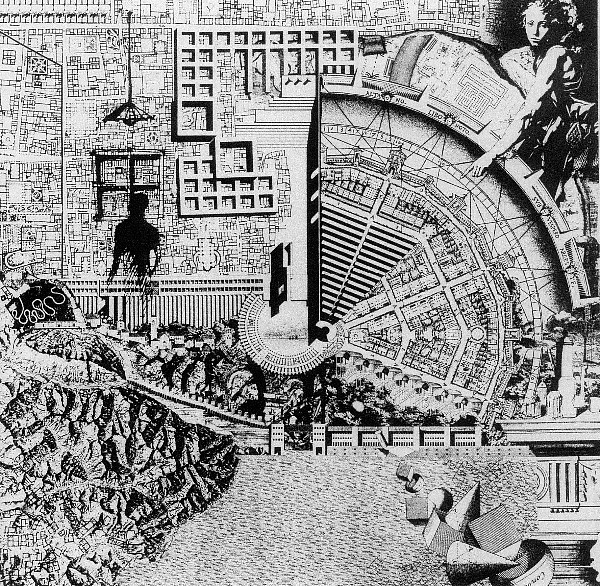 Aldo Rossi, La Cittą Analoga, 1976.
2003.09.04 19:10
Re: CFP: Museums and the Web 2004
... There's nothing fancy about the display, but I like the effect of "going through a museum" on a day by day, as opposed to room by room, basis.
[Thinking just now:] a calendrically mnemonic museum design.


2008.09.04 23:44
MVRDV masterplan in Tirana
design development like 8 years ago
"Hey, you're blocking my view!"
2009.09.04 10:29
Process is more important than product
"Does our obsession with process and problem solving exist because we would rather establish a clear and repeatable working method than continually face the proverbial blank sheet of paper? Does it exist because process is easier and quicker to teach than precedent? Or because discussing the processes of "research architecture" in design gives us something to talk about in reviews, or something convincing to say to clients? Is it so that, as with Abstract Expressionism, we can forgo painterly dexterity in favor of the will to discover? Have we, in fact, ordained process, research, and analysis as some architectural version of the Jonas Brothers--an unchallenged design anthem to be broadcast on all channels at all times and for any reason--in order to avoid confronting a line that lacks a legitimate rationale?"
--Mark Foster Gaga, "In Defense of Design" in Log 16 (Spring/ Summer 2009).


2009.09.04 12:06
Process is more important than product
Just for clarity's sake, care to provided examples of site-sensitive form-making.
The gist of Gage's essay overall speaks of precedence and intuition as a seemingly forgotten or overlooked part of the design process. What Gage's essay does not have is any illustration of what precedence and intuition within the design process might produce. Judging his firm's work in light of the essay may indeed be (further) revealing.


2009.09.04 18:39
Process is more important than product
If Spiral Getty is used as a gauge for site sensitive form making, then it still isn't altogether clear how Gage's work is site insensitive form making.
2014.09.04 13:19
Why Modern Architecture Struggles to Inspire Catholics
If one says, "so many modernist sacred places and memorials/monuments are unsuccessful," then I assume there is actual evidence to back up such a claim. Without the evidence, the claim might just be a myth.
Regarding a passage in the article where the author claims his brother is representative of the larger group of Catholics that have a sophisticated knowledge of their religion, that's just plain false. Most Catholics, and even the author, lack a sophisticated knowledge of their religion, and instead their knowledge is based on a late-nineteenth century whitewash of the religion and its real history. Along those lines, read Morris's American Catholic for a more accurate description of what the faithful are really, albeit unwittingly, believing in.


2014.09.04 20:49
Why Modern Architecture Struggles to Inspire Catholics
EKE, answer my questions first and then I'll answer yours. In the meantime, however, my answer will involve an almost sentence by sentence analysis of the article's ongoing examples of unsophisticated knowledge. Beyond that, I'd cite my own research of Helena and Eutropia, the mother and mother-in-law of Constantine the Great respectively, and their predominate role as Christianity's first organized church builders. Indeed, the role of women in general in the early Church is full of lessons that would very much benefit the Church today.


14090401 Museum of Knowledge plan (reduced .9732) Chandigard Capital Complex site plan
14090402 Museum of Knowledge plan 22002 context
14090403 Atheneum plan 22002 context
14090404 Neue Staatsgalerie plan 22002 context
14090405 Urban Components plan 22002 context
14090406 Museum of Arts and Crafts plan 22002 context
14090407 Museum of Architecture plan 22002 context
14090408 Museum Annex plan 22002 context
14090409 Analogous Building plan 22002 novel architecturale context


15090401 Villa Appositional model NNTC002c plans
15090402 NNTC002c plans
15090403 ICM IQ20 plans
15090404 A Souq Neighborhood @ Horti Valeriani