1997.09.07
Diana/Triumphal Way
Just two days (Thursday) before Diana's funeral service, I came across an article on the Triumphal Way in Ancient Rome. I found it in the first issue of Ritual, which I have owned since it came out in 1983. I was not mindful of the essay's existence, and I was happy to find it because of my current work regarding Piranesi' Campo Marzio which has the route of the Triumphal Way demarcated within it.
I read and finished the essay between late Thursday night and late Friday night. It addresses the notion of the elusive Triumphal Arch and the meaning of the passage of the Triumphator into the city, and then through the city. It also spoke of the monuments that were passed-by in the course of the procession, and how they were, over time, steadily incorporated into the ritual. It also spoke of how the crowds were an integral part of the procession and ritual--manifestation of the social mirror, the reflective lens of the "see and be seen" phenomena.
Mere hours after having finished the essay I was watching Princess Diana's funeral service. I turned on the television just as Earl Spencer, Prince William, Prince Harry, Prince Charles, and Prince Philip joined the procession at Buckingham Palace, taking their place behind Diana's coffin. As the procession made its way to Westminster Abbey, the television commentators called out the various monuments and landmarks: Victoria Fountain, Hyde Park, the Lutyen's Cenotaph at Whitehall. When I saw the coffin pass through the arch at xxx, however, I realized that I was indeed witnessing Diana's Triumphal Way.


000907a.db Tiber of the Ichnographia Campus Martius 2392i02


2001.09.07 08:53
Re: Roman freeways
I'm by no means an expert in Roman history and design, but the Romans did have an extensive road system throughout the empire. I'm sure there is all kinds of information out there on this topic. When it comes to elevated transport systems, I think of the Roman aqueducts. Not a people/vehicle mover, but a 'freeway' of water nonetheless. I would say that the largest factor of ancient transport is that most people back then still moved from place to place on foot. And the largest number of people to travel great distances were aptly the foot soldiers.
On the urban issue, at least in Rome, it is said that by later imperial years (the second century AD and thereafter) one could traverse the entire city (or at least the Campo Marzio) under cover of roof. There were a great many porticus which were public loggias of a sort. Many a porticus had its distinct character, and some, kind of like today's malls, were great places to shop. You might be able to stretch the notion of a network of public porticus into the notion of a urban pedestrian freeway.
2001.09.07 09:44
Ambrose buildings, even today
I was not aware of the Ambrose strategic church building program at Milan. Thanks for letting me know about it.
There are three (rather large) Catholic parishes in the Philadelphia neighborhood of Olney, St. Ambrose, St. Helena and The Incarnation of Our Lord. They are all just over 75 years old now, and all within a section of Philadelphia where the demographics is now changing rapidly into incredibly dense multi-culturalism. I've lived here over 43 years now, so I well know the local history. Only recently (Spring 1999) did I learn of the connection between Helena and Ambrose (i.e., Ambrose's late reporting of Helena's finding of the Holy Cross). I began to wonder who it was that actually picks the patronage/names of new parishes when they are instituted, because I am curious if having St. Ambrose next to St. Helena is just an accident. I have yet to pursue this research largely because I don't think I'd actually find an answer, at least not an answer that states specifically whether or not this particular coincidence was intentional. Later in 1999, I learned of Athanasius and his connection to Constantine, and then I learned of Athanasius' influential theological text on the Incarnation.
I'm relating all this because I very unexpectedly found myself living in a otherwise undistinguished place, yet full of huge, and quite specific, late antiquity references. References, moreover, that no doubt no one else around here has any idea of, nor, probably, would care about even if they were informed. I guess what I'm trying to say is that as remote as late antiquity is, it's still very much there, and sometimes right in front of your face and you still may not recognize it.
ps
You may remember that I wrote about a nun that was recently attacked while going to Mass at St. Helena's. Well, that same week there was another nun attack news story that came out of Olney. A nun from Incarnation parish was attacked by a pit-bull dog. Not that these examples are exactly 'persecution', but they do give one a real sense of the kinds of stuff that went on almost exactly 1700 years ago.
pss (2010.08.03)
In late October 2007 I became aware of the fact that the parish west of St. Helena's (in a neighborhood of northern Philadelphia that I was never familiar with) is named for St. Athanasius.


2003.09.07 12:26
Re: perfectly symmetrical circles
The way I see it, the reality of virtual symmetry is its asymmetry.
2004.09.07 18:59
History of Blobitecture
For what it's worth, there are now images of Frei Otto's OLYMPIAPARK, München, 1972 at Quondam
It would be interesting to know whether computers and/or CAD were used in any way in the design development or construction documentation of this project. I kind of doubt it, but you never know.
A very real precursor of Gehry's Bilbao nonetheless.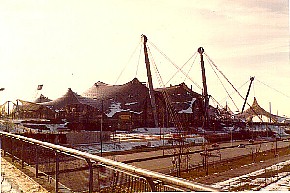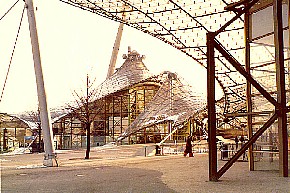 1975.12.31
08090701 IQ04 Campo Marzio development


12090701 IQ01 composite plans
12090702 IQ02 composite plans 2170i34
12090703 IQ03 composite plans
12090704 IQ04 composite plans


2013.09.07 09:55
What is talent?
Actually, if you really look at the (architectural) situation, hardworkers are plentiful. Thus it is most likely (a composite of) talent(s) that distinguishes the exceptional.


13090701 Ur-Ottopia House in Campo Rovine plans
13090702 Maison Millennium 001 in Campo Rovine plans
13090703 Palace of Ottopia in Campo Rovine plans


14090701 Domestic Museum plans NE Philadelphia/NNTC context 2170i44
14090702 Domestic Museum plans 22002 context 2170i45
14090703 museum compilation plans 22002 context
2014.09.07 12:53
Interview: September 2, 2013, 12:00 pm
I think it's worth pursuing the notions of drawing and/or/versus data. It's also necessary to note that what ever I say about drawing/data pertains largely only to the utilization of drawing/data as a medium and facilitator of designing architecture period, where as whatever you say (I assume) pertains to drawing/data as a means toward architecture as ultimately a building. Essentially, I'm investigating possibilities within the virtual (only), and you're investigating the possibilities of taking the virtual into the real. (I hope I'm not over-simplifying.)
You make a very good distinction when you say I came into the computer via drawing and you came into drawing via the computer. Thus I'll try to share a little of what that's been like for me and what I've learned and/or tried to work toward. (And what I say in this regard may ultimately be worth nothing practical, but I'll say it anyway.) Right away when I was first introduced to CAD I saw that it could allowed me to draw in ways I otherwise could only dream about. It put my manual dexterity into over-drive--I started redrawing Piranesi's Campo Marzio within a week of having my own CAD system April 1987. With 3D I soon thought of modeling architectural designs that were never built so as to experience these buildings virtually, essentially visiting architecture that didn't exist otherwise. This 3D project soon also became a real learning experience as to what constitutes good design (and the growing collection of CAD building models turned into Quondam a virtual museum of architecture). The 'job' of designing with CAD never became a real issue for me because from 1987-1990 I was a CAD consultant for a number of architects, the Philadelphia City Planning Commission and Toll Brothers, where I wasn't designing for them, rather generating 2D and 3D data that they couldn't get anywhere else. My business evaporated with the 1990 recession, and by the time the recession ended (that's also when I took the registration exam and officially became an architect) my CAD skills were no longer 'rare' and there was no real demand for me as a consultant anymore. On top of all that, 1994 was when I became a more or less full time caregiver (for various members of my family since then) which made it impossible for me to get back into a full-time work position. Thus, for the past 22 years I've been using CAD kind of at my leisure, yet still seriously via Quondam. Some critics have said I'm only playing, but, like your football analogy, I'm definitely playing with goals in mind, where the overriding goal is to continually see how much can I get out of and how far I can push this notion of architecture via the virtual and CAD.
Because of my many years of drawing, I have a very large quantity of 2D and 3D drawing data, and it's this collection of data that's now my drawing playground. Designing buildings, however, is still a tough issue for me, primarily because I have no real building programs (although, since in the future everything will be a museum, it's always easy for me to design another museum (wink wink)). Thus I often design (with existing data) in reverse where the design comes before the program, for example, when I put Le Corbusier's St. Pierre at Firminy-Vert into Louis Kahn's Hurva Synagogue it turned out that I just designed my first mosque.
In just the last month or so, I've refined the terrain model of where I live, and I'm starting to place Quondam's collection in and all-around here--Ury House exists again, and I can readily change my own house into the Villa Savoye, Acropolis Q (lately complete with Venturi's Eclectic Houses) is under construction at the top of the valley and the Dominican Motherhouse of the Sister's of St Catherine de Ricci is just over the hill up the street, and I think it's the Trenton Jewish Community Center Bathhouse that's going over Kahn's grave. This is probably the closest my architecture is ever going to get to the real.