18 December

1452 death of Colard de Givry

1545 the great vault of the Libreria fell; Sansovino was held responsible for the loss, imprisoned, and fined.
1554 Pierre Lescot was created canon of the cathedral of Notre Dame, Paris

1816 it was ordered that the works collected by Lenoir should be returned to their original owners
1832 death of Augustus Pugin
1881 death of George Edmund Street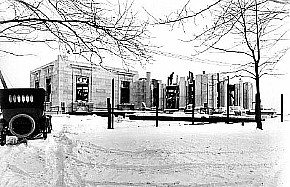 Horace Trumbauer, Whitemarsh Hall (Wyndmoor, PA: under construction, 1916.12.18)

The Sacred and the Profane
1994.12.18 3784

Department of Architectural Theory
1997.12.18 5900k 3777

more daring @ Quondam
1997.12.18 3142 3704 3705c 3724b 3730b 3754c 3789

Re: the e-media state
1998.12.18 12:56

where does concept come from
2000.12.18 3763 5006

Re: Bemused Tadao Ando observation
2002.12.18 17:02 3770g 4014h

postpostmodernism (arrgh)
2004.12.18 08:00

Re: zomescape
2004.12.18 09:13 4012k

Architecture as Art: Good Idea or Very Bad Idea?
2011.12.18 11:48

What's the deal with...
2013.12.18 18:38 quondamopolis 3794d

18 December
2013.12.18 20:24 3306k 3723 3763 3771k 4411e

30th St. Station District Plan Proposes Mixed-Use Neighborhood Above Rail Yards
2015.12.18 16:48 3313i

9 December
2015.12.18 17:05 3313i

18 December
2015.12.18 17:12 3313i 3773s
2015.12.18 19:08 3313i 3773t
2013.12.18 20:24
18 December
1997: ...far more manipulative of the model and 2D data in the collection. ...collaged-distorted designs demonstrating the true possibilities of "virtual" space and museums of architecture. ...new definitions of museums are also being created in the process--a "virtual" museum can go beyond the "mission" of a real museum.
1998: Is a lot of today's built environment an unwitting form of "plug-n-play" architecture? All this reminds me of Einstein's answer to the question "to what did he himself attributed the great workings of his mind?" Einstein basically answered that he never stopped thinking like a child, meaning he never discounted self-evidence and he never took anything for granted.
2000: The Latin word 'concepto' (a verb) means: (1) to conceive, become pregnant and (2) to conceive in mind.
The Latin word 'conceptio' (a feminine noun) means (1a) a comprehending; hence concretely, a circuit, compass: the system of the universe [and here Vitruvius is cited as the source of the concrete meaning] -- (1b) a collection, reservoir -- (1c) a conception, a becoming pregnant -- (2a) a composing, drawing up of juridical formulas -- (2b) an expression
From my own experience as an architecture student and as an occasional jury member of student design presentations, the notion of formulating a 'concept' early on in the design process is an integral part of contemporary architectural education. I admit that up until five days ago, when I first read the Latin definitions above, I never connected the notion of formulating a design concept with the notion of becoming pregnant (although the connection in English is surely present in the word 'conception'). For me, concept in design meant an idea formulated from the building program and site, and this idea would both guide the design process as well as provide the design with a cohesion.
Now, knowing the Latin definitions of concepto and conceptio, I change my understanding of concept vis-à-vis designing to being metaphorically that moment when the design process becomes pregnant. And here I want to recall Saul's question "whether there are any arguments for a language of architecture that go beyond appeals to a metaphorical sense of 'language'. [What follows is not to refute Saul's quest, which I see as an insightful mind seeking an interesting and seemingly unprecedented vein of thought, but to suggest what might be the very root of the opposite of what Saul seeks--working with the logic(?) that to understand what something is not will aid in understanding what something is.]
It seems fairly clear that the notion of mentally attaining a concept is already a metaphor for physically becoming pregnant (and here I wonder whether the age old male striving for intellectual dominance is really nothing more than womb envy), hence a substantial part of design/creativity language is likewise purely metaphorical. Again, I'm not trying to suggest that a non-metaphorical language of architecture cannot be found or formulated, rather to point out that the concept of a non-metaphorical language is either: (1) already operating metaphorically in that mental conception reenacts physical conception, or (2) a non-metaphorical language of architecture is one that seeks to equal physical conception itself (i.e., to enact rather than reenact).
Last week I offered "innuendo" as a "display [that generally] deals with the 'language' and meaning of architectural planimetric forms, while specifically [displaying] the 'master key' that unlocks the long held mysteriousness of Piranesi's Ichnographia Campus Martius." Take another look at innuendo/0001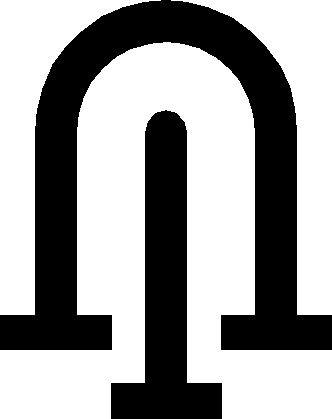 because you will see a 'building' that is both literally and figuratively conception. This tiny building is indeed one of the few plans within the Ichnographia that Piranesi does not provide with a Latin label, and that is because the building, through its plan, already speaks for itself, and, moreover, it speaks of all the 'concepts' there involved, namely, Piranesi's conception of architectural language and the very conception of Rome [Romulus] itself. Piranesi's architectural intensification here is so tight to the point that indeed the medium is the message. And I now wonder whether it might be more worthwhile to seek a language of architecture where the medium is the message, or is such a 1=1 language the same as "a language of architecture that goes beyond appeals to a metaphorical sense of 'language'?"