Brideshead Revisited
2005.08.05 13:00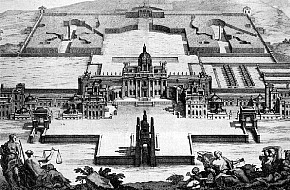 I'm now wondering whether the above image of Castle Howard from Vitruvius Britannicus (published 1715-1725) somehow inspired the architecture of Piranesi as delineated within Il Campo Marzio (1762). Remember the Ichnographia of the Campo Marzio (1757-62) is dedicated to Robert Adam. Did Adam show Piranesi Vitruvius Britannicus while he (Adam) was friends with Piranesi in Rome in the 1750s? In any case, the perspectival vantage point and indeed the architecture depicted within the perspectives of the Campo Marzio very much evoke the Castle Howard aerial perspective, for example the Frontispiece of the Campo Marzio: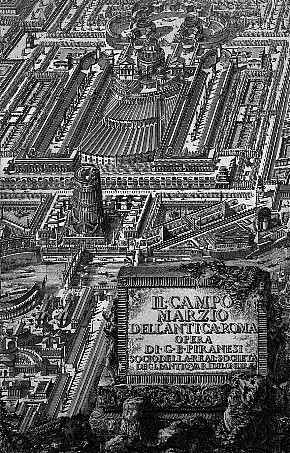 "How Did This Happen Revisited"
2008.08.06 15:09

"...and in 1755 Robert Adam had Kent's Inigo Jones, Campbell's Vitruvius Britannicus and Lord Burlington's Baths, all sent to him in Rome." (London, Guildhall MS 3070 f. 11).
Adam (sans Eve) in the Garden of Satire
2008.08.10 11:29

Piranesi's close familiarity with [Hadrian's] Villa dates back at least to the 1750s, when there are accounts of sketching expeditions made in the company of Robert Adam, Clérisseau and Allan Ramsay.*
--John Wilton-Ely, The Mind and Art of Giovanni Battista Piranesi (London: Thames and Hudson, 1978), p. 41

*See John Fleming, Robert Adam and his Circle in Edinburgh and Rome, London and New York, 1962, passim.

passim : here and there: used in bibliographic references to indicate that the writer has drawn upon material scattered throughout the source cited.

In fact, there is no direct evidence within Robert Adam and his Circle in Edinburgh and Rome that Piranesi and Adams were ever together at Hadrian's Villa, nor does Adam every mention Piranesi having been to Hadrian's Villa. Was perhaps Adam at Hadrian's Villa before Piranesi ever was? It is on record that Adam was at the Villa d'Este mid-June 1755. And again Adam led a survey and drawing expedition at Hadrian's Villa for six days in April 1756.

Many of the specifics we have today regarding Piranesi's life from June 1755 to late-April 1757 come from the coeval letters of Robert Adam. According to Wilton-Ely: The new decade of the 1760s saw a broadinging of Piranesi's antiquarian concerns... A particular field of operation in this decade was Tivoli and the ruins of the nearby Hadrian's Villa.

Here and there indeed.