Pierre Delorme
architect.
Pierre was one of the three principal architects of the château of Gaillon (Eure, Normandy), the others being Pierre Fain and Guillaume Senault. About 1502 he was employed by the Cardinal Georges I. d'Amboise (d. May 25, 1510) to make additions to the episcopal palace at Rouen. His name first appears in the accounts of the cardinal's château at Gaillon, January 1, 1507. He built the so-called Maison Pierre Delorme, (destroyed) on the south side of the main court facing the grande maison of Guillame Senault. The comptes show that he was constantly employed at Gaillon during the life of the first cardinal It is supposed that he was related to Philibert de l'Orme.


Felipe de Vigarny (Filipe de Borgona)
sculptor and architect.
For the Cardinal Ximenes de Cisneros he made the great retable of the cathedral of Toledo (Spain), with its sculpture (1502). He afterward went to Granada to execute the royal chapel in the cathedral, and the fine monuments of Ferdinand and Isabella which it contains.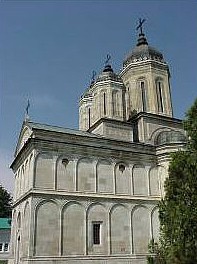 1502 Dealu Monastery Church Romania


Bramante was commissioned in 1502 by the King of Spain, Ferdinando IV and his wife Isabella, to build a small temple in the cloister of S. Pietro in Montorio.