Robert Jumel
architect; d. atout 1523.
In 1504 he became superintending architect of the church of S. Gervais et S. Protais at Gisors, France. In 1523, which was probably the time of his death, he was superseded by Robeit Grappin.


Jean Juste (Giovanni di Giusto Betti)
sculptor and architect; b. 1485; d. 1549.
Jean Juste was the most important member of a family of Italian sculptors which appears in France in the early part of the sixteenth century. The investigations of Gaetano Milanesi have shown that the family name was really Betti, and that they came from the village of Saint Martine a Mensola, near Florence, Italy. Giusto Betti had a son, Andrea, whose three sons, Antoine, André, and Jean, appear to have been brought to France to make the monument of Thomas James, Bishop of Dol, who died April 5, 1504. The name of Jean Juste appears in an inscription on this monument. In a book by Jean Brèche (ad Titilum Pandectarum, Lyons, 1556), he is mentioned as the author of the monument to Louis XII in the church of Saint-Denis, near Paris. Jean was probably assisted in the construction of this monument by the other members of his family.


Sebastiano di Giacomo, of Lugano
architect.
In 1504 Sebastiano undertook the completion of the church of S. Giovanni Grisostomo. In 1505 he contracted to build the choir of the church of S. Antonio di Castello, and in 1507, in association with Leopardi, presented a model for the Scuola della Misericordia, all in Venice.
1504.04.05 death of Thomas James, Bishop of Dol

1504.06.08 Michelangelo's David placed in position before the Palazzo della Signoria, Florence





4-5. Plan and transverse section of the cloister of the collegiate house called della Pace in Rome, commenced by Bramante shortly after his arrival in Rome 1504, by order and at the cost of Cardinal Olivier Caraffa. (Vasari, Vite de; Pittori, vol.ii, p. 44.)
6. Portion of the section no. 5 on a larger scale.
7. Detail of the entablature of the upper order.
8. One of the composite column between the pilasters of the second story.
9. Detail of the Ionic order of the ground floor.
Seroux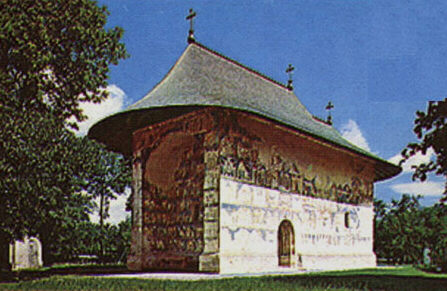 Arbore Monastery Church (Romania: 1503-04).