2014.09.24 15:21
No, I was not bummed when Wall House 2 was built in the Netherlands (I think). I found it interesting, moreover, that the built work is something like 1.2 times the size of the drawn design. Somewhere along the line I think I read that the building was 'uninhabitable', but I may have just imagined that. As to it first being "perfect paper architecture," the design was intended for a sloping, wooded site in Connecticut (with a separate garage). The 'wall' would have been positioned where the ground starts to slope downward, thus the 'suspended nature' of the room-pods would be further accentuated. So perhaps the real fault of the built work is that it did not occur at a site like the one it was intended for. Also, rather than seeing Wall House 2 as "this perfect paper architecture," I see the design (built or not) as a perfect museum-piece (of architecture).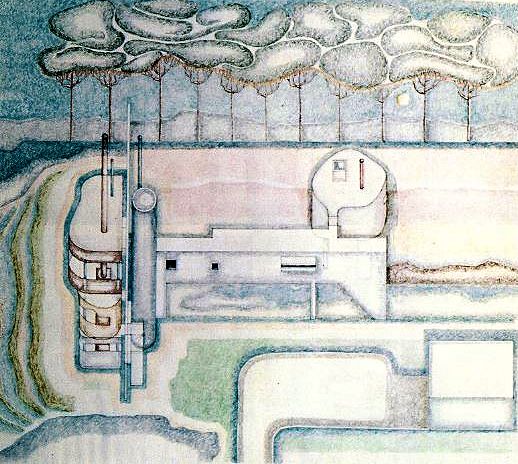 2014.09.25 12:25
Back in school, Spring 1979, we were studying/designing in-fill housing. Dave and I were partners, and our site was a North Philadelphia neighborhood just south Girard Avenue and east of Broad Street. We had a clay site model (maybe like 40th scale) so we could quickly discern all the gaps within the neighborhood that potentially needed to be filled. One day Dave made a small model of Wall House 2 and said, "I think we should fill all the gaps with this." It really looked good, and no doubt we both wished we could have ultimately presented that and be done with it. All the same, our final design did get a lot of praise, and our final 1/8 scale, chipboard, detail portion of the site model was part of the Broad Street Comes Alive exhibit at the Philadelphia Art Alliance downtown that summer.
I still have the final site plan drawing, and perhaps I will bring Dave's idea back into play.
Dave was a hemophiliac, and sadly one of a whole generation of hemophiliacs that ultimately died of AIDS (1 April 1994) due to receiving infected blood back in the very early 1980s.