1960-67 Fisher House
1965-68 Dominican Motherhouse of the Sisters of St. Catherine de Ricci
1979-87 Wissenschaftszentrum
1979 Kasperson Residence
1981 Institute of Contemporary Art
1982 Cooper & Pratt House
1982-87 Winton Guest House
1994 Wacko House 002
2002 NATO Headquarters
2006.07.21 Parrish Art Museum
2007 Gooding Trice House
2008 Hospice Søndergård
2008 Art Souq
2005.03.15
note
Do a full reenactment trail before and after Kahn's Media convent. Luckily, my thesis comes before Gehry's Winton Guest House. This list is nice and long, including the precedents I presented at thesis.
2006.01.25 12:58
Thesis Semester [blog] 25 years ago
Ever since I saw Guida's design of the Kasperson Residence (Mitchell/Giurgola Architects, 1979), I knew he had an affinity for Kahn's Fisher House--there's no denying a good reenactment when you see one--so I felt sure he would be favorably responsive when I told him I would like to emulate Kahn's Motherhouse of the Dominican Sisters paradigm. That's the "that" when he said, "...and do that with the rest of the program on top."
James Stirling, Michael Wilford & Associates
Berlin: Wissenschaftzentrum (WZB)
1979-87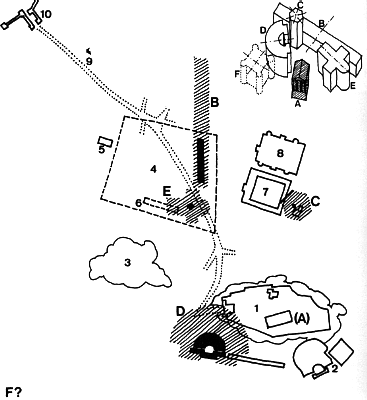 Gerd Neumann, a German critic, has discovered Athenian eclecticism in the [Berlin Science Centre's] different shapes (Gerd Neumann, 'James Stirling's Spree-Athen "Ekletizimus"!-?' Bauwelt 14, April 11, 1980, pp.575-77). The preserved building is the Parthenon, the octagonal library is the Tower of the Winds, the amphitheatre semi-circle is the Odeon of Herod, the long institute is the Stoa of Attalos, etc. Again, however, the reading can be polyvalent and Schinkel and Adam precedents be found. The building thus becomes, like 19th-century Berlin, something of an enigmatic conjecture on the past, powerful because it characterizes different institutes in different ways, disturbing for its nightmarish recollections [Some critics thought the design harbored Nazi undertones], interesting for its urban spaces and perplexing for its classical distortions.
Charles Jencks, guest editor, "Post-Modern Classicism -- The New Synthesis," Architectural Design, vol. 50, no. 5/6, 1980.