09072501 ICM Septa Julia Amphitheatrum Statilii Tauri scan plans 2419i26
09072502 ICM Campus Agrippae scan plans


11072501 Governor's Palace model reduced .9112 2177i18


12072501 Acadia National Park Headquarters building section scan with plan 2204i03


2013.07.25 08:16
Traditional/Classical Architecture- Part 2
There's a very interesting relationship between the architecture of Strickland and Schinkel. For example, compare the (space-time) of the Neue Wache and the Second Bank of the United States. Did they know of each other's work? I have no idea, but the space-time similarities are sometimes uncanny. Did they just happen to have access to (and devour) the same books and 'magazines'?
Koolhaas/OMA has been steadily building upon the components of architecture's tradition of the last 100 years or so.
The more traditions stay the more they change the same?


2013.07.25 08:29
Charles Jencks - The Story of Post-Modernism: Five Decades of the Ironic, Iconic and Critical in Architecture
But 'the story' of Post-Modern architecture indeed comprises multiple narratives, conflicting viewpoints, and subaltern voices. From the very beginning Jencks described the language of Post-Modern architecture as schizophrenic, even.
2013.07.25 11:29
Traditional/Classical Architecture- Part 2
Personally, I would like a truly eclectic house...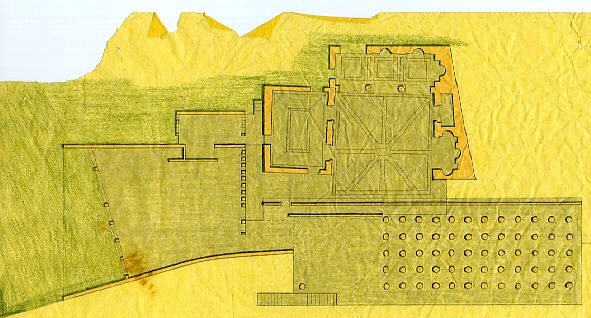 ...showing my love of all architectur[al education].
15072501 Ludwig Mies van der Rohe Villa Tugendhat Brno 3d recreation by xoio


16072501 IQ55/06 Ottopia Lauf Haus der Kunst Governor's Palace Museum for Nordrhein Westfalen Dresdner Bank plans 3392vv21
16072502 IQ55/07 Ottopia grid blocks plans 3392vv22
16072503 IQ55/09 North Neighborhood Master Plan plans 3392vv23
16072504 IQ55/10 Ottopia Lauf Haus der Kunst Mosque Q Working Title Museum 005 House of Shadows Bye Lustgarten Museum for Nordrhein Westfalen Museum of Arts and Crafts Monument to Friedrich the Great Basilica Sessorianum Dresdner Bank plans 3392vv24
16072505 IQ55/11 Ottopia Palais des Congrès Hotels at the Palais des Congrès grid blocks plans 3392vv25
16072506 IQ55/14 New Not There City World Trade Center Ottopia Breslauer Platz Wallraf-Richartz Museum Working Title Museum Monument to Friedrich the Great plans 3392vv26


18072501 Parc de la Villette ICM 8800x4400 plans 224ji04
18072502 Flick in Musica perspective in terrain 2474i06
18072503 Alfred Newton Richards Medical Research Building and Biology Building plan done plan elevation working data 218di01
19072501 Vierzehnheiligen plan section elevation nts 2480i45
19072502 St. Peter's Basilica Piazza plans in situ 2071i05
19072503 St. Peter's Basilica Piazza @ Eutropia iq62 2071i06
19072504 Acadia NPHQ Building @ Franklin Square model data 2204i19
19072505 Acadia NPHQ Building @ Franklin Square model work 2204i20