Jean Baptiste Carpeaux
sculptor; b. May 11, 1827 (at Valenciennes, Nord, France); d. October 12, 1875.
Carpeaux was the son of a poor mason of Valenciennes (Nord, France), and studied first at the academy of that town. October 2, 1844, he entered the Ecole des Beaux Arts in Paris. He was a pupil of Duret, but was influenced much more by François Rude and David d'Angers. In 1854 he won the Grand Prix de Rome with his fine statue of Hector and Astyanax. Carpeaux executed the sculptural decoration of the Pavillion de Flore at the Tuileries (Paris). His famous group of La Danse on the facade of the Grand Opera house (Paris) was placed in position in 1869. The Fontaine de l'Observatoire in the Luxembourg garden was exhibited in plaster at the Salon of 1872 and finished in bronze in 1874. The animals are by Frémiet.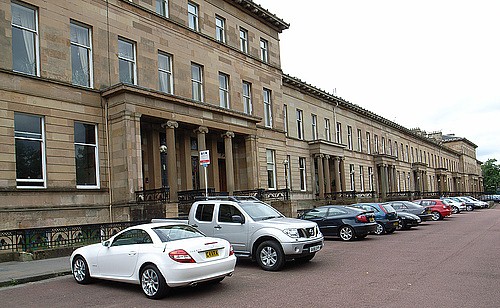 Alexander Thomson, Great Western Terrace (Glasgow: 1869).