2015.06.09 17:13
Renderings of BIG-Designed Two World Trade Center Revealed
The earliest stacked-box skyscraper design that I know of is within Arquitectonica's Capital Park West (1983).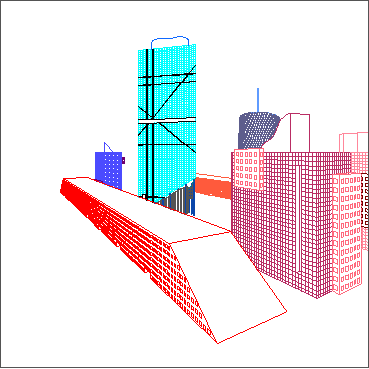 In many ways, Arquitectonica can be considered the ur-OMA spinoff. Remember, Spears and Koolhaas worked together just before Arquitectonica (and OMA) was formed. And, while Capital Park West was never executed, they were nonetheless the first architects to get 'delirious New York' type architecture built, well before Koolhaas and Zenghelis themselves.
Thus I now wonder whether BIG's WTC2 will be the first stacked-box skyscraper actually built. I'm trying to think of some other such project(s) that already exists, but I'm drawing a blank--please let me know if there is. I know H&dM's NYC luxury hi-rise currently under construction, but that's a bit more voxelation than stacked-box, and there's, of course, the New Museum, but that's not really a skyscraper.
ps
Arquitectonica's Capital Park West is clearly a decendent of Leonidov's Dom Narkomtjazjprom project.
1988 Netherlands Architecture Institute 2253
1991 Villa dall'Ava 2276
1992-95 Dutch House 2295
1994-98 Maison à Bordeaux 2291
1997-2003 Netherlands Embassy in Berlin 2338
1999-2004 Seattle Central Library 2341
1999-2005 Casa da Musica 2320
2002 NATO Headquarters 2343


Master plan Shunde City 201401/005
Rijnstraat 8 renovation The Hague 201401/003
Axel Springer Campus Berlin 201401/001 16100601
Milstein Hall Ithaca 16101201


1978 Dutch Parliament Extension The Hague 16042201
1987-92 Kunsthal Rotterdam 201401/005
2001 Whitney Museum Extension New York 16032601
2005-11 NM Rothschild Bank London 16022101
2008-2018 Fondazione Prada Milan 14082501 15050401 15050702 15060601
2009- Stadskantoor Building Rotterdam 14101701 15041802
2009-16 Taipei Performing Arts Center Taipei 16090101
2010-16 MNBAQ Québec 14121903 15092801 16062301
2009-16 Fondaco dei Tedeschi Venice 16043001
2010 Mohammed University Ben Guerir Morocco 15090402
2011 "The Rock" Innovation Center complex Skolkovo 201401/002
2011 Parc des Expositions (PEX) Toulouse 14121802
2011-15 Garage Museum of Contemporary Art Moscow 15060902 15061201 15082901
2012- City Villa Rotterdam 201401/004
2012 Guangdong Baosteel Building Guangdong 15010301
2012- Paris-Saclay campus LabCity building Paris 15040402 15102301
2012-16 Small Hermitage Saint Petersburg 16050701
2013 LSE Global Centre for Social Sciences London 14080901
2013 New School Campus Frankfurt 15020901
2013 Culture and Art Center Qingdao City 15022801
2013- Dharma Niaga Jakarta 16070101
2014 OMA.OLIN 11th St. Bridge Park Washington DC 14091304 14101601
2014 Cultural Center Zhanjiang 14092601
2014 OMA.Localarchitecture New Football Stadium Lausanne 14112201
2014 Green Square Aquatic Center & Gunyama Park Sydney 14120501
2014-17 Exhibiton Centre Lujiazui 14121501
2014 Prince Bay Shenzhen 15012502
2014 City Museum Extension Mumbai 15032801 15080101
2014 Nhow Hotel Rai Amsterdam 15042701 15081501
2014 RFK Stadium-Armory Campus Masterplan Concepts Washington DC 16040601
2014 Theater District Tower Dubai 16071501
2015 West Louisville Food Port Kentucky 15022301
2015 Nine Elms to Pimlico Bridge London 15031702 15032401
2015 Qatar Foundation Headquarters Doha 15062701
2015 BC Design Sport and Sciences Building Brighton 15072401
2015 Solid Nature Pavilion Paris 15090901
2015 Courtyard-Tower Istanbul 15102001
2015 Factory Arts Centre Manchester 15112501
2015 Art Museum and Library Shenzhen 15112802
2015 KaDeWe Renovation Berlin 16011901
2015 Cai Guo Qiang Studio Expansion New York City 16012101
2015-16 PXP Pershing Square Building Paris 16030902
2015 Christiansholm Island Masterplan Copenhagen 16040901
2016 VRT Media Building Brussels 16010802 16011701
2016 FAB Civic Center Park Los Angeles 16031201
2016-17 Event Space for Alserkal Avenue Dubai 16031401
2016 4th Mainland Bridge Lagos 16031901
2016 Toranomon Hills Station Tower Tokyo 16041301
2016 Knoll Pavilion 2016 Milan 16041501
2016 Galeries Lafayette Lumière Paris 16042601
2016 Hassell + OMA New Museum for Western Australia Perth 16073101
2016 Halle Commune - Pleyel Bridge Paris 16101801
2016 RPJ Mixed-Use Building San Paulo 16110401
2016 The Pan-European Living Room 16112201
2016 Museo del Prado Extension Madrid 16112601
2016 The Feyenoord City Masterplan Rotterdam 16113001