Sir James Hamilton, of Fynnart
architect; b. 1495; d. August 16, 1540.
A natural son of James, first Earl of Arran and master of the works to King James V of Scotland. He built the northwest portion of Holyrood House, Edinburgh, and was employed on the castles of Edinburgh, Sterling, and Rothesay, all in Scotland.


Augustin Hirsvogel (Hirschvogel)
glass painter, enameller, potter, engraver, etc.; b. 1503; d. 1569.
A son and pupil of the elder Veit Hirsvogel, and one of the most versatile of the German artists of the sixteenth century. He painted eleven windows in the chapel of S. Rochus in Nuremberg, Bavaria, from designs by Albert Dürer. He invented improvements in the processes of glass making, and was a skilled enameller, draftsman, engraver, musician, potter, stonecutter, and mathematician. He designed numerous fine earthenware stoves, of which there are examples in the Museum at Nuremberg. His stoves were widely imitated.


Il Rosso (Giovanni Battista di Jacopo; called in France, Maitre Roux)
painter and decorator; b. 1496 (at Florence, Italy); d. 1541.
Rosso was one of the young men who studied from the cartoons of Michelangelo. In 1530 he went to France and was employed with Primaticcio in the decoration of the palace of Fontainebleau. He decorated the Grande Galarie and the Chambre de Madame d'Estampes at Fontainebleau.




North Portal, Sé Velha (Old Cathedral), Coimbra, Romanesque, from c.1530.

Bastion called del Corno, 1530.
Seroux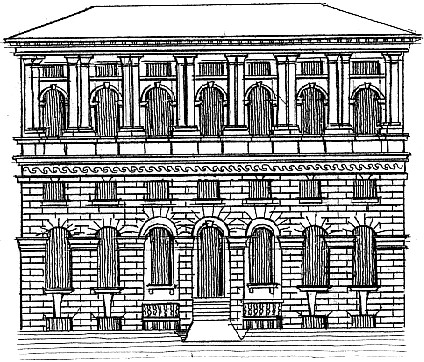 Façade of the Palace Canossa at Verona, built in 1530 for Louis Canossa, bishop of Baieux in France, and ambassador of Francis I to the Venetian republic. It is one of the finest works of Michael San Micheli of Verona, who excelled equally in civil architecture as he did in military architecture, of which he may be said to have been the creator. He died in 1559, aged 75 years.
Seroux