Kilian Ignatz Dinzenhofer
architect; b. September 1, 1690 (at Prague); d. December 17, 1752.
The family of Dinzenhofer came originally from Bamberg in Bavaria, where were several architects of that name. His father, Christoph, was an architect, practising in Prague (Bohemia). Kilian went to Vienna in his twentieth year and worked with Fischer von Erlach. He travelled in Italy, France, and England, and settled in Prague after the death of his father, in 1722. He was employed on nearly all the most important buildings undertaken at Prague at this time. His chief work is the cupola of the church of S. Nicholas, at Prague.


Filippo Juvara (Ivara)
architect; b. 1685 (at Messina); d. 1735 (at Madrid).
Juvara was a pupil of Carlo Fontana. His work, although done in the Baroque period, is marked by simplicity and much classical refinement. His life was spent mainly in the service of the dukes of Savoy, at Turin, Italy. Juvara's chief monument is the monastery of the Superga near Turin, which shows the influence of contemporary French practice. The Villa Stupinigi, near Turin, was probably designed by him. Many villas in Piedmont were built by him. One of his most characteristic works is the fašade of the Palazzo Madama, Turin, 1710, with its fine stairway. He continued the construction of the ducal palace at Lucca, begun by Bartolommeo Ammanati. At Mantua, Juvara built the cupola of the church of S. Andrea, designed by Leon Battista Alberti two centuries before. Juvara's last years were spent in Spain and Portugal.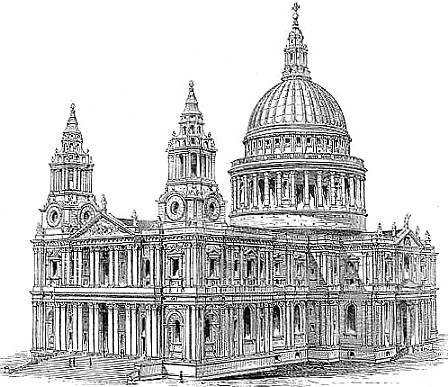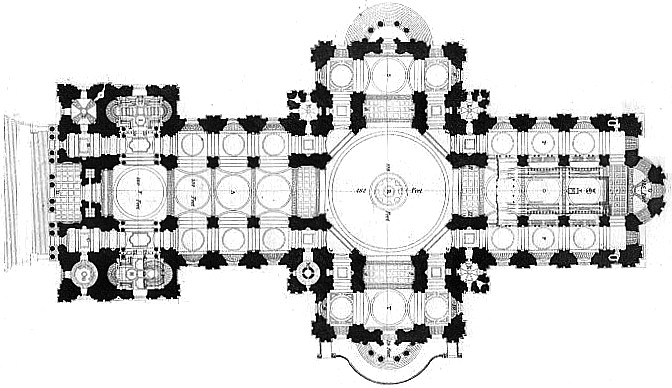 Sir Christopher Wren, St. Paul's Cathedral (London: 1675-1710).