James Elmes
architect; b. October 15, 1782; d. April 2, 1862.
Elmes was a pupil of George Gibson, architect, and at the Royal Academy, where he won a silver medal in 1804. He was made vice president of the Royal Architectural Society in 1809, and surveyor of the port of London at about the same time. He is best known by his writings, his chief work being A Practical Treatise on Ecclesiastical and Civil Dilapidations (1829). He published, also, Memoirs of the Life and Works of Sir Christopher Wren (1823, and 1852); A Practical Treatise on Architectural Jurisprudence (1827); etc.


Sir Robert Smirke
architect; b. 1781; d. April 18, 1867.
In 1796 he entered the office of Sir John Soane, then occupied with the building of the Bank of England, and in the same year became a student of the Royal Academy. In 1799 he won the gold medal for design. He visited Athens in 1803, while Lord Elgin was removing the sculpture from the Parthenon. He also visited Sicily and made drawings of the architectural remains there. Smirke was employed on the Mint, London, in 1809; and in 1845 was placed by Sir Robert Peel on the commission for London improvements. He built Lowther Castle and Eastnor Castle, and in 1808 rebuilt Covent Garden Theatre (burned in 1858). One of his most important works is the main fašade of the British Museum (London).
In 1809, John Soane erected an unusual two-story gallery, lit from above, behind his next-door neighbor's house at No. 13 Lincoln's Inn Fields. Soane, whose office and residence were at No. 12, at first called the structure a "Plaister Room." Later, he termed the gallery a "Museum." Within it, the architect arranged his casts and antiquities, which soon covered the walls from floor to ceiling.
Susan G. Feinberg, 1984.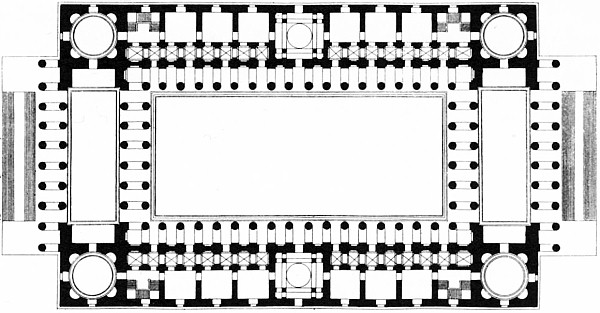 J.N.L. Durand, Design for an Exchange (1809).