2001.11.10 20:51
Re: Louis Kahn's son
What really bothers me though is the notion that Kahn's architecture being inspired by his youthful surroundings is now seen as some new insight. The truth of the matter is that North Philadelphia was jam packed with an incredible collection of 19th century industrial architecture. Sadly, a lot of it is now gone, and virtually none of it was ever appreciated. For me, it was riding the old Reading train line into town through North Philadelphia that provided one of Philadelphia's best architectural tours. [This train route is now called the R8, and it still runs regularly, but many of the old factories are now gone.] I guess what I'm trying to say is that apparently there were and still are great buildings in North Philadelphia (akin to Exeter Library, no less), but, because they are not designed by someone famous, they are not noticed. Why isn't this architectural greatness recognized all along? Is it perhaps architectural education itself that somehow makes us less observant? Or has it always been that nothing is worth it until some article or book says it is?
2002.11.10
now look who's reenacting
I didn't have to read more than the first few paragraphs of what Muschamp writes in today's New York Times before the notion of writing something myself took over. Muschamp's first paragraph reads:
"Elizabeth Diller and Ricardo Scofidio have defined a new building type for the contemporary city: the urban viewing platform. Invention of this caliber doesn't turn up every day. Diller and Scofidio could spend the rest of their careers reworking this one idea over and over again and not be judged harshly for repeating themselves. The basic concept is that good, and its potential applications are various. Many cities will want to try out variations on the theme. But Boston will receive the first authentic edition in 2004, when the city's Institute of Contemporary Art is expected to open its doors."
The "urban viewing platform" is NOT a new invention created by Diller and Scofidio. Every time I visit the Philadelphia Museum of Art I also visit a quite remarkable "urban viewing platform." Of course, Philadelphia's "urban viewing platform" has already been embedded into popular culture via a climatic scene in the movie Rocky, as in "flying high now!" There is, however, much more culture embedded within Philadelphia's "Fairemount" in that it reenacts the Acropolis [and now the Vatican Hill too], which, incidentally, is much closer to the invention of the "urban viewing platform" than anything Diller and Scofidio ever did or do. So let's not confuse invention with what is really reenactment.
I didn't bother to finish reading Muschamp's piece because (I feel) its contents are predictable, thus I will write a little more about Philadelphia's viewing platform, which will probably be akin to things that Muschamp says. The stairs that Sylvester Stallone ran up in the movie also many times act as enormous theatrical seating with the head of the Benjamin Franklin ("inventor" of electricity, as long as invention awards are being passed around) Parkway as the stage and the Philadelphia skyline as backdrop. Beyond that, there are always a variety of life vignettes occurring on the steps and up in the Museum forecourt. I particularly like seeing wedding pictures taken up on the "viewing platform"/forecourt; it reminds me of a similar scene I once saw at the Campidoglio in Rome, which, incidentally, is another great "urban viewing platform" (and the view from the Campidoglio is the Campo Marzio! Wow, Quondam and the Campidoglio actually have something very much in common. Does that mean Quondam is also a reenactment of an "urban viewing platform" My goodness, will reenactment wonders never cease?).
Ah reenactment! I'm so glad you're there, especially since so many so easily forget.
2004.11.10 12:32
Re: Concrete Comedy: A Primer
Anybody else here ever read Lequeu: An Architectural Enigma by Philippe Duboy?
"...with meticulous research to decipher the conundrumical nature of an eighteenth-century maverick artist whose drawings have established him variously as a visionary architect, forerunner of surrealism, and inventor of bad taste."
"He suggests that Duchamp and Raymond Roussel tampered with the Lequeu drawings to concoct a character and oeuvre even more involved than was previously thought possible."
"History is no mystery."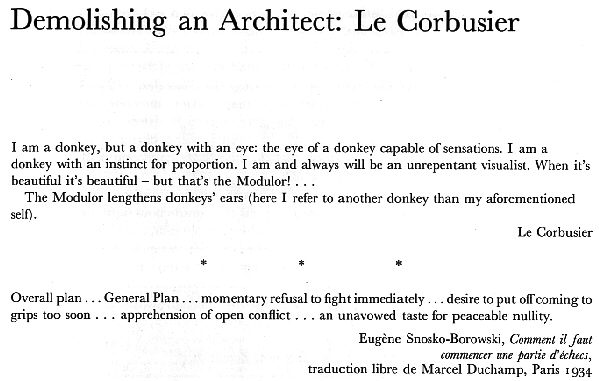 2007.11.10 16:15
The End of Boxes
The Beginning of Boxes?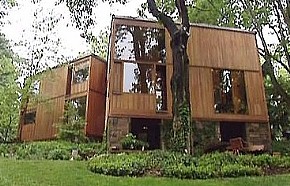 Louis I. Kahn, Norman Fisher House, construction completed June 1967.


2007.11.10 18:21
The End of Boxes
The Beginning of Blobs?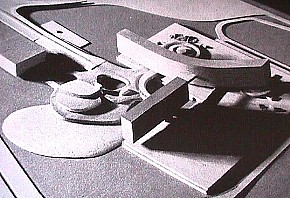 Le Corbusier, Electronic Calculation Center Olivetti at Rho-Milan, 1963-64.


07111001 surface rotation play 2370i26 b


10111001 ICM Villa Publica etc. 2110i80


17111001 ICMS09 plans 4400x2200 2110i126
17111002 ICMS10 plans 4400x2200 2110i127
17111003 ICMS11 plans 4400x2200 2110i128
17111004 ICMS12 plans 4400x2200 2110i129
17111005 ICMS13 plans 4400x2200 2110i130


18111001 OMA Axel Springer Campus Berlin