99122201 Mayan City model 2302i35
2008.12.22
more Olivetti reenacted
Herzog & de Meuron's BBVA Headquaters design is the latest reenactment of Le Corbusier's Electronic Calculation Center Olivetti.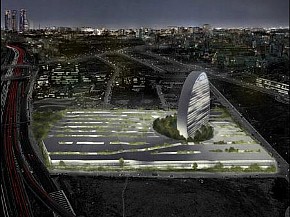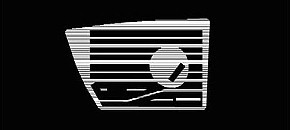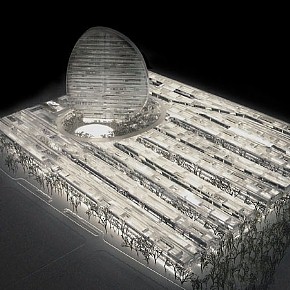 Plus, the design clearly manifests Alejandro Zaera-Polo's (reenactionary) proposal of a new politics of the envelope.


12122201 Palace of Ottopia plan model IQ03 2305i03 b
2013.12.22 15:16
What is an experimental architect? Are Zumtor and Herzog experimental?
experiment 1b (1) : a tentative procedure or policy; esp : one adopted in uncertainty as to whether it will answer the desired purpose or bring about the desired result
experiment 4 : the process or practice of trying or testing
experimental 2 : founded on, derived from, or discovered by experiment
Given the above definitions, Frank Gehry is probably the leading experimental architect of the last 35 years or so.
2008.08.23 15:16
peter's canon
One thing that crossed my mind last night was how, when I see the many studiy models of H&dM...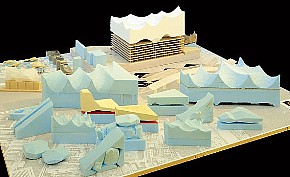 ...and OMA...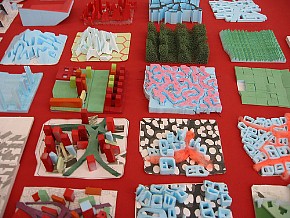 ...I'm reminded of the many study models produced by Gehry for the Lewis Residence...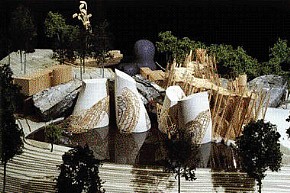 I may be stretching it, but...)
Gehry's method of design via innumerable study models [ie, experimentation] seems to have become quite influential.
[The following is an experiment. In the two passages below, the word experimental replaces the original word pliant, and the word experimentation replaces the original word pliancy.]
2008.08.23 21:06
peter's canon
Personally, I like seeing all the study models of various projects by various architects. I like it because it clearly demonstrates just how experimental architectural designing can be. And I seriously consider the notion that it may well be Gehry that best introduced architectonic experimentation to the profession.
Is architectonic experimentation in somewhat sharp contrast to Eisenman's method? Up to a certain point (in time) I'd say yes. And when Eisenman's work started exhibiting some measure of experimentation, that's where I start to see Gehry's influence.
13122201 30th Street Station Railyard studies IQ04 IQ07 REMS plan model (opaque off) 2431i12 b
13122202 30th Street Station Railyard studies IQ04 IQ07 REMS perspective (per750a.vw) (raw) 2431i13 b
13122203 rotated extruded mesh surfaces models 2431i14


14122201 Whitemarsh Hall site plan image attached 5233 context 2141i02
14122202 Whitemarsh Hall site plan image attached Karastan/NNTC context 2141i03 b
14122203 Whitemarsh Hall 1100x550 plan site plan image attached Karasten/NNTC 2141i00
14122204 Philadelphia Museum of Art 1100x550 plan 2142i00
14122205 Stockholm Public Library 1100x550 elevation 2144i00
14122206 Villa Stein de Monzie 1100x550 plan Pruitt-Igoe/NNTC 2150i00


15122201 Steven Holl Art Museum and Library Complex Shenzhen


18122201 OMA Feyenoord City Feyenoord
19122201 Palazzo Medici Riccardi plan elevation section 207ii01
19122202 Pruitt-Igoe Housing iq58 elevation play wireframe model 217ai13