Re: clarification
2005.05.08 19:03

First off, I accidentally skipped a paragraph within the passages I sent you earlier today. The missing paragraphs comes after "...Campo Marzio leads to the same conclusion." Here's the paragraph:

The obsessive articulation and deformation of the composition no longer correspond to an ars combinatoria. The clash of the geometric "monads" is no longer regulated by any "preestablished harmony"; and, most important, it demonstrates that the only meaning this paradoxical casuistry can refer back to is pure geometry, in the absolute semantic void that characterizes it.

It seems that Tafuri saw (in the Campo Marzio) individual plans that don't signify anything either historic or symbolic or even realistically typologic, and all together the Ichnographia is heap of meaningless fragments, thus it's all a divorce from any symbolic/meaningful system.

I just read some of Barthes' Elements of Semiology where a sign is composed of a signifier and a signified, and, what Tafuri sees is the Campo Marzio plans (individually and as a 'whole') as signs that still have a signifier, i.e., architectural building plans, but these signs/plans lack a signified, something that gives the plans any real meaning.

In reality, Piranesi employed all kinds of signs that carry a wide variety of signifiers--sometimes it's the shape of the plan(s), sometimes it's the placement/location (rightly or wrongly) of the plan(s), often it's just the label/name attached to the plan (which signify at least some historical existence), and then there are examples of combinations of the above distinctions, e.g., the Atrium Minerva (wisdom) as centerpiece of the 'garden of satire' which is situated at a location coincident with the top of the Spanish Steps, where Piranesi moved his family and business about a years after the Campo Marzio was published.

Anyway, there is so much out there now (especially from Eisenman) regarding this great analysis that Tafuri did, that this may be just the beginning of a great unraveling. Odd, I never imagined that reenactment would be at the center of all this.

In simple terms, Tafuri's work is unfortunately a history that was cooked too quickly, served too quickly, and eaten up too quickly.
Brideshead Revisited
2005.08.05 15:17

I forgot to mention this before--the Castle Howard-Ichnographia Campi Martii connection may also be found in some of Piranesi's individual plans within the large plan. For example, the Porticus Gratiani, Valentiniani et Theodosii somehow reminds me of the plan of Castle Howard--the plans are not what you would call 'alike', but they both strive for maximum effect through minimum means.*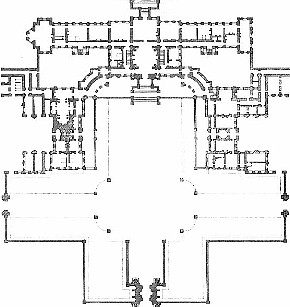 *What is ingenious about Vanbrugh's ground plan at Castle Howard was the way that it contrived to create the maximum visual effects of architectural scale and magnificence out of the minimum number of rooms. Both externally and internally it looked and felt like a much larger house than it actually was, if calculated in floor space.
--Charles Saumarez Smith, The Building of Castle Howard (1990), p. 55.