"The directional indices...
2007.09.08

"The directional indices T-M-P-L suggest templa, however their use is fairly conventional. Tramontane, literally "between the montains", is the name of the north wind or the north star as seen over the Alps. Meridióne is south, from the Latin meridianis for midday when Dianus, god of light and the sun, and male counterpart of Diana, is highest in the sky. Pončnte is west or the west wind, possibly from the Latin ponere "to put, or set down" in relation to the setting sun, while Levante is east, possibly from levare "to raise" in relation to the rising sun."
--R. James Aitken, Piranesi-Vico-Il Campo Marzio: Foundations and the Eternal City.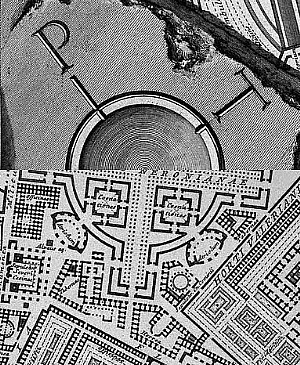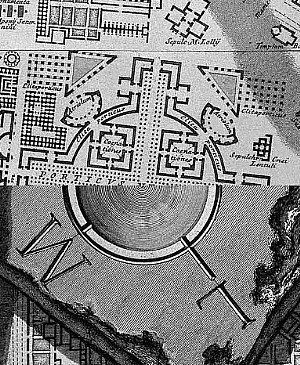 "...the inner circle of the Porticus Neronianae matches the circle of the compass/north arrow that Piranesi also delineated within the Ichnographia."



"The end of Livy Book 5 describes the rebuilding of Rome in the wake of the Gallic sack. The Romans were in a great hurry to rebuild, he writes, and for this reason there was no order to the new city, so that forma . . .urbis sit occupatae magis quam divisae similis, 'the arrangement of the city resembles that of a place taken over rather than portioned out'. Occupata here may be read as evoking Rome's recent occupation by the Gauls. Kraus draws our attention to Tacitus' reading of this Livian episode, which the latter author makes use of in his account of the destruction of Rome in the Neronian fire and the city's subsequent rebuilding. Tacitus' account presents Nero's fire as worse than the Gallic sack, for it causes destruction of monuments witnessing the origins of Rome. Rome is then rebuilt; large areas in the centre of the city are taken over for Nero's Domus Aurea. Nero's appropriation of the city is like that of a foreign enemy."
--Catharine Edwards, Writing Rome: textual approaches to the city.