Thesis Semester [blog] 25 years ago
Thesis Semester [blog] 25 years ago

Any archinecters from Philadelphia?
Ury House

07011101.db

Site of Ury House, 1894
Site of Ury House, 1910
Site of Ury House, 1927
Site of Ury House, 1939
Site of Ury House, 1954
Exact Location of Ury House

Audubon not in love
The Susquehanna Road
maybe, maybe not
A Miers Fisher Banquet of Lawyers
Anyone support tearing it down?
Would Benjamin Henry Latrobe have...

Ury House -- circa 1645
Ury House -- 1687
Ury House -- 1728
Ury House -- 1763
Ury House -- 1771
Ury House -- 1774
Ury House -- 1778
Ury House -- 1790
Ury House -- 1794
Ury House -- 1802
Ury House -- 1803/1804
Ury House -- 1805
Ury House -- 1812
Ury House -- 1813
Ury House -- 1818
Ury House -- 1824
Ury House -- 1842
Ury House -- 1843
Ury House -- 1860
Ury House -- 1863
Ury House -- 1880
Ury House -- 1881
Ury House -- 1892
Ury House -- 1899
Ury House -- 1910
Ury House -- 1912
Ury House -- 1924
Ury House -- 1926
Ury House -- 1936
Ury House -- 1940
Ury House -- 1945
Ury House -- 1946
Ury House -- 1973
Ury House -- 1974
Ury House -- context

...and speaking of random tangents

Hélène Gregoroffsky Fisher

...and speaking of random tangents

Charles Willson Peale to Rubens Peale
Frankford, 1849
Seat of John Lardner, 1824.08.15.
Slater House, 1824.08.15.
Eddows place, 1824.
Miss Swift's, 1824.08.16.
Samuel Swift's place, 1824.08.16.
Miers Fisher's place, 1824.08.17.
Mr. Hartshorn's Seat, 1824.08.17.
Friend's Asylum, 1824.08.17.

...and speaking of random tangents

Ury House, schematic plan

...and speaking of random tangents
...and speaking of random tangents
...and speaking of random tangents

07031401.db

Miers Fisher

Travels Through North America, during the years 1825 and 1826
6547 6548 6549 6550 6551 6552 6553 6554 6555 6556 6557 6558 6559 6560 6561 6562 6563 6564 6565 6566

...and speaking of random tangents
...and speaking of random tangents

Miers Fisher on Redheffer's Perpetual Motion Machine

...and speaking of random tangents
...and speaking of random tangents

07032601.db

07032701.db

...and speaking of random tangents

A box-patterned knot at Ury House, Fox Chase, Pennsylvania
Grape arbor at Ury House, Fox Chase, Pennsylvania
Built by the Swedes, the Dining Room is the oldest part of Ury House.
The back of Ury House.
The front of Ury House.
Box Garden at Ury House, 1932.
Measured Drawing of the Existing Plan of Ury House, 1933.

Early Reminiscences Associated with the Life and Family of My Mother Sarah Redwood Parrish

Joshua Fisher, The Cliffs (Philadelphia, 1753).
6622 6623 6624 6625 6626 6627 6628 6629 6630 6631 6632 6633 6634 6635 6636 6637 6638 6639

Early Reminiscences Associated with the Life and Family of My Mother Sarah Redwood Parrish
Early Reminiscences Associated with the Life and Family of My Mother Sarah Redwood Parrish

cliff hanger

...and speaking of random tangents

07041601.db

..and speaking of random tangents

"I see sham pane, but no glasses"
"I see sham pane, but no glasses"

What are you reading?

"I see sham pane, but no glasses"
"I see sham pane, but no glasses"
"I see sham pane, but no glasses"
"I see sham pane, but no glasses"
"I see sham pane, but no glasses"

For the pleasure of sharing ideas, through the poetry of the printed word

07071803.db
07071804.db
2013.01.19 19:07
19 January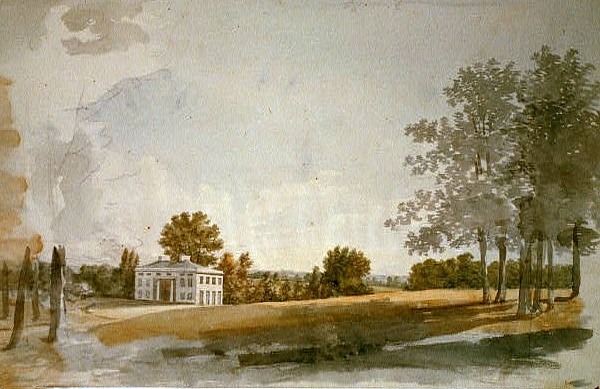 This is what the place where I now live looked like about 202 years ago. It is a watercolor sketch of Ury House by Benjamin Henry Latrobe.

The sketch is presently within the Print and Photograph Division of the Library of Congress,where it is [mis]labeled as "Probably Long Branch, the Robert Carter Burnwell house, Clarke County, Va." But when you compare this watercolor to a 1824 sketch of "Miers Fisher's Place" by Charles Wilson Peale (who also painted a portrait of Latrobe)...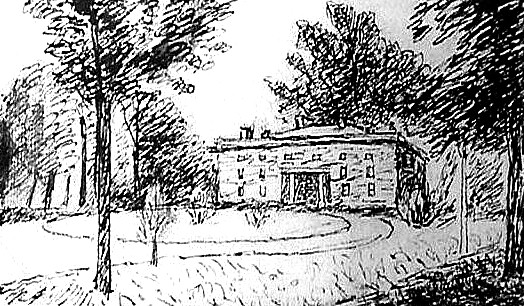 ...the similarity of the two drawings is virtually exact. Plus, the ground contour of Latrobe's sketch matches Ury's.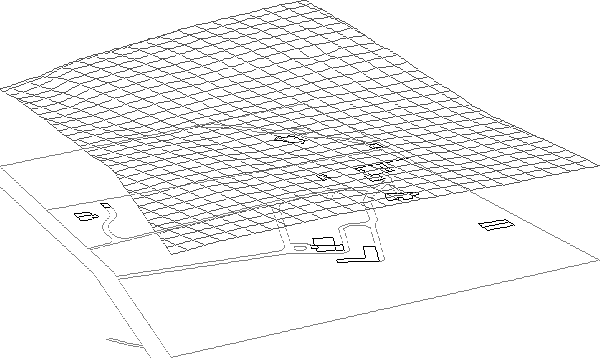 From The Papers of Benjamin Henry Latrobe (1994):
"Much more tentative is the possibility of alterations to the countryseat of Miers Fisher. In the 1812 annual exhibition at the Pennsylvania Academy of Fine Arts Latrobe submitted a "View of the Seat of Miers Fisher, Esq.," probably a watercolor. This was Ury, an old house some ten miles north of Central Philadelphia that Fisher had purchased in 1795 and added to "considerably." Latrobe's having drawn the house leads one to wonder if he might have played some professional role here."

Miers Fisher kept a copious daily journal throughout all his years of retirement at Ury. I have a copy of his 1812 journal, but there is no mention of Latrobe therein. I feel very confident now, however, that were I to go and get a copy of Miers' 1811 and 1810 journal, I'd find Latrobe mentioned there.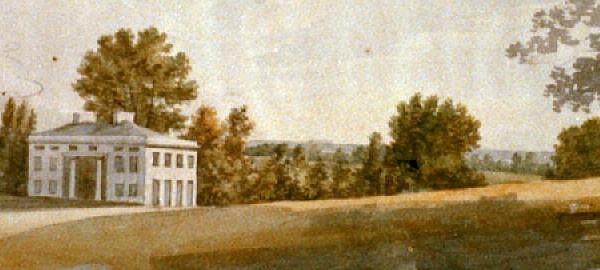 The much-further-altered Ury House was demolished 1973. The house I live in now is situated approximately just within the left side of the gap in the tree-line to the right. In fact, some of those very trees in the watercolor may still exist today (albeit in my neighbors' yards). When I look out the window next to where I'm sitting right now, a little slice of the distant horizon is still to be seen.


2013.01.27 11:29
19 January

"A watercolor view by Latrobe that was thought to be connected with the design of the [Burwell] house [Long Branch] (fig. above) could be taken as an indication of his limited influence: it shows what would be Long Branch's southern front and eastern flank with the proper number of bays, with the hipped roof, and the recessed center, but without its eastern wing, its southern Ionic portico, and its square cupola. More significantly, it shows a different vertical sequence of openings and internal rather than perimeter chimneys. ... Unless further documentary evidence is forthcoming, it seems unwarranted to think of the Long Branch as a house "Latrobe is known to have designed.""
Jeffrey A. Cohen and Charles E. Brownell, The Papers of Benjamin Henry Latrobe: Architectural Drawings, Volume 2: The Architectural Drawings of Benjamin Henry Latrobe, Part 2 (1994), p. 335.

It is unfortunate the authors of the definitve work on Latrobe did not know that the watercolor drawing in question was in fact Ury House, because they might not have been so dismissive of Latrobe's involvement at Long Branch, and Latrobe's involvement at Ury would have received more attention than a footnote.
2013.08.26 13:19
19 January

AD2012, uncannily, I found myself asking the same question late last night. This is not the first time a thought popped into my head and then independently materialized somewhere else very soon thereafter. I, personally, have not done any further research regarding Latrobe at Ury, but I did communicate with Cohen (via a total of five back and forth emails) toward the end of January. Cohen never responded to my last email, and I haven't heard from him since. As my three emails below make clear, I provided Cohen with several leads regarding further research.

Benjamin Henry Latrobe at Ury House
2013.01.27 13:01
Jeffrey A. Cohen:
I'll come straight to the point. It appears that the Latrobe watercolor, 'landscape with country house', that is tentatively connected with Burwell's house Long Branch, is actually a sketch of Ury House, Philadelphia.
Since October 2006, I've been living in a house that is about 60 yards from where Ury House stood, and in 2007 I did much research on the history of Ury House and the place where I now live -- www.quondam.com/ury . I was aware that Latrobe had exhibited a sketch of Ury House, and likewise speculated as to Latrobe's possible role with the house's redesign under Miers Fisher, but not until last weekend did I see the Latrobe sketch published within your definitive work on Latrobe's architectural drawings.
I hope you find my discovery to be indeed correct because it would make me very happy to see the Latrobe watercolor attributed correctly.
Stephen Lauf
------

I have Cohen's response email, but do not feel comfortable fully publishing it here. Nonetherless, he was completely intriqued, asked lots of questions regarding possible further evidence of Latrobe's possible designer role at Ury, and, "Yes, I always wondered about the penciled Long Branch ID on the watercolor, as my text probably betrays. Encouraged that your research might starighten things out. Looking forward to hearing more."

------
Benjamin Henry Latrobe at Ury House
2013.01.27 21:39
Hello Jeff,
Thank you for responding so quickly. This "Ury stuff" has become very exciting for me again, and it sounds like you now feel the same way. I'll endeavor to be as helpful as possible in any further research that may confirm Latrobe's connection to Ury House.
I think Ury House looked like the historical photographs up until the time it was demolished circa 1973-75. The Medical Mission Sisters were the last occupants/owners of the house, and some of the sisters who lived there as novices may still be alive and living just across Pine Road from where Ury House used to be. The Sisters have a small archive of Ury material, and that is where I photographed most of the historical images and the measured architectural drawings and contour map (that you see online). I don't think I overlooked anything of importance when I went through the archive, and perhaps the only other information still to be gleamed from the Sisters are personal remembrances.
Miers Fisher died in March 1819 and Ury House was sold (I think) not long after that. I would surmise that Ury House in its 'Latrobe' state lasted until the Crawford's bought the property in 1842; the house stayed in the Crawford family for just over 100 years, and they did the extensive renovations that resulted in Ury's final state. I haven't paid too much attention the Ury House history during the Crawford ownership, but I some photocopies of information and a number of saved internet files. Plus, the Medical Mission Sisters bought Ury from the Crawfords.
For me, the most discernable 'Latrobe' features of Ury House in its final form are the recessed columned entry, the two flat rectangular windows above the entry, and the thin cornice also above the entry. Peale's sketch being unquestionably of Ury House makes it clear that Ury was much altered post 1824, but it also provides the (visual) link to Latrobe's 1811(?) watercolor.
Aside from the notice of Latrobe exhibiting a watercolor of Ury House in 1812, I have yet to find any other textual historical evidence linking Miers Fisher, Ury House, and Latrobe. Miers Fisher's retirement journals (1805-1819) are presently at the Friends Historical Library of Swarthmore College, and that is where I acquired a photocopy of the 1812 journal in 2007. I have not been to the FHL since, but they have all the original journals and a set of photocopies of each journal which they in turn allow to be photocopied. Miers' script is for the most part readable, but still takes a good bit of time to get used to; the daily entries of 1812 comprise 41 double-sided 8.5x11 pages. Miers' content is generally of interest. He knew, entertained and/or met a surprising number of 'historical' figures. For example, in late 1812 Miers twice met architect Joseph Jacques Ramée--Miers' son Redwood and Ramée sailed to America earlier that year on the same ship. So far, I have not made any plans to go back to the FHL to acquire more copies of Miers' journals--I'm ongoing caregiver for my schizophrenic (though now much stable) older brother, and my being out and about for extended periods of time is not an easy thing to do.
There are also Miers Fisher papers at the Historical Society of Pennsylvania, but, as of yet, I have not been there.
I'll end with that for now, I'm curious to hear what your thoughts are as to what a next step might be. Of course, if you ever want to visit where Ury House once was and perhaps even stand where Latrobe did the watercolor, I'm happy to be your host. Furthermore, if you ever want to talk over the phone, I'm for sure reachable most any evening.
All the best,
Steve
ps
One thing I can do (which no one else right now could) is construct a schematic architectural computer model of Ury House as depicted in the Latrobe watercolor and place it within the ground contour model. Then I'd be able to see if Latrobe's view of the house can be matched, and even see if Peale's view can matched. Actually, if I put my mind to it and gave myself some time, I could probably have some results by this time next week.
------

Alas, I have yet to construct a computer model of Ury House. Cohen responded the next day and said he would try to seek out Miers Fisher's earlier journals, and was interested in how Latrobe's watercolor might relate to the plans of Ury House featured at Quondam. Also, he almost came here--"Curiously enough, there was another house just around the corner that I almost went up to investigate today: the L. S. Filbert house, "Hilton," altered by Hazlehurst & Huckel about 1889. It's discussed in Hotchkin too, pp. 400-05."

------
Benjamin Henry Latrobe at Ury House
2013.01.28 21:39
Hi Jeff,
'Hilton' does not exist anymore. Since at least the 1950s, the Filbert land was owned and occupied by the Sisters of the Good Shepherd, with lots of fields surrounding where the house was. There was a large, multi-storey convent building(?) that you could see from the road, plus what looked like some farm buildings. Hilton would have been part of this compound, but I don't know for sure if it was even there then. Sometime late-1990s, the Sisters of the Good Shepherd sold the land to the Sisters of the Holy Redeemer, and the new owners demolished the old compound in its entirety and have developed pretty much all the land into a (moderately expensive) retirement community.
As to matching the schematic plan of Ury to Latrobe's sketch, almost all the information I have is what you see online, plus I did trace the various plans available at the Medical Mission Sisters, so I do have data 'to scale'. From all that, the best I can do is coordinate all the available plan, elevational and land contour data into a 3-dimensional CAD model file. I envision an outcome very much like Venturi and Rauch's Franklin Court with wireframe ghost house.
If you haven't already done so, read again the entry on Ury within PMHB--google search "sham pane but no glasses" gilpin. The notion of false windows as part of the new design of Ury is most intriguing. Is there a precedent for such detailing within any other Latrobe designs?
Finally, a small part of me wishes I could be the one reading Miers' earlier journals, if only for the thrill of a hoped-for discovery, which I'm sure you can well understand. If you do attain copies any time soon, please keep me informed as to what you find, plus, I might be able to clarify whatever local information may not be clear. Also, I'd like to borrow whatever copies you acquire to make copies for myself.
In all, however, I already feel assured that something quite positive will come out of all this effort.
best,
Steve
ps
Do you live anywhere near this area?
------

Like I already said, I have yet to hear from Cohen again (unless you're secretly Cohen).
I suspect an 'official' history/documentation of Latrobe at Ury House will materialize someday, most likely written by Cohen. Hopefully, I am not written out of this particular history, especially since it is one of the most legitimizing aspects of Quondam as a virtual museum of architecture.


2014.01.19 14:05
19 January

Greg and Hank are two retired gentlemen, brothers-in-law actually, that I occassionally cross paths with while taking walks along Pennypack Creek. Greg is an avid mushroom hunter, while Greg is on the look-out for snakes, and whenever I see them I ask for a report of their latest finds, which are always much more interesting than I might otherwise expect. Last Wednesday, for example, I learned that there were some oyster mushrooms over in Lorimer Park that unfortunately died during the recent spell of sub-freezing days. In exchange, and related to their own park activities, I told Greg and Hank that John James Audubon lived for about six months up on the next hill, at Ury Farm, exactly now 210 years ago. I basically told them:

"On landing at New York [August 1803] I caught the yellow fever by walking to the bank at Greenwich to get the money to which my father's letter of credit entitled me. The kind man who commanded the ship that brought me from France, whose name was a common one, John Smith, took particular care of me, removed me to Morristown, N.J., and placed me under the care of two Quaker ladies who kept a boarding-house. To their skillful and untiring ministrations I may safely say I owe the prolongation of my life. Letters were forwarded by them to my father's agent, Miers Fisher of Philadelphia, of whom I have more to say hereafter. He came for me in his carriage and removed me to his villa, at a short distance from Philadelphia and on the road toward Trenton. There I would have found myself quite comfortable had not incidents taken place which are so connected with the change in my life as to call immediate attention to them.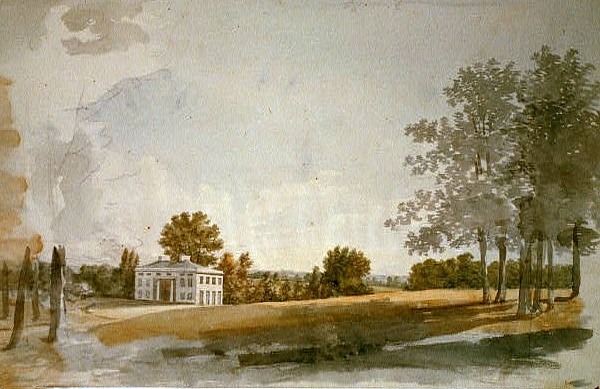 Miers Fisher had been my father's trusted agent for about eighteen years, and the old gentlemen entertained great mutual friendship; indeed it would seem that Mr. Fisher was actually desirious that I should become a member of his family, and this was evinced within a few days by the manner in which the good Quaker presented me to a daughter of no mean appearance, but toward whom I happened to take an unconquerable dislike. Then he was opposed to music of all descriptions, as well as to dancing, could not bear me to carry a gun, or fishing-rod, and, indeed, condemned most of my amusements. All these things were difficulties toward accomplishing a plan which, for aught I know to the contrary, had been premeditated between him and my father, and rankled the heart of the kindly, if somewhat strict Quaker. They troubled me much also; at times I wished myself anywhere but under the roof of Miers Fisher, and at last I reminded him that it was his duty to install me on the estate to which my father had sent me.

One morning, therefore, I was told that the carriage was ready to carry me there, and toward my future home he and I went."
--John James Audubon, "Myself" in Audubon and His Journals (New York: Charles Scribner's Sons, 1897), pp. 15-16.

If you read any of the biographies of John James Audubon, you can tell that the biographers really have no idea of where Miers Fisher's villa actually was, which is a little unfortunate, because a greater portion of the natural surroundings of the 'villa' have not changed much at all since Audubon was here, thus offering a real glimpse of the American landscape that Audubon first came into real contact with. And speaking of glimpses, if I looked out my living room window and was able to look back in time exactly 210 years ago, chances are that I would see John James Audubon himself.