1999.09.15 12:37
architecture in cyberspace?
First, I said, "I'd hate to see the virtual merely become a reflection of the real." This means I'd hate to see architects/designers/theorists neglect an investigation of the inherent qualities of the virtual/cyber realm, where they can find virtual/cyber's own "natural" order. For example, one huge difference between architecture in the real world and architecture in cyberspace is that in cyberspace actual buildings are redundant, indeed a real auction house that does what eBay does couldn't even be built. Another difference between real architecture and cyber architecture is that one goes to real architecture whereas cyber architecture comes to you. It may simply be that "real" architects have to begin also thinking about what it means to design architectures that go to people.
On a personal level, I like that www.quondam.com is a museum of architecture that is not a building, and, moreover, a museum of architecture that goes all over our planet.
Perhaps the purest architectures of cyberspace are precisely those architectures that can't be built [except in cyberspace].
2001.09.15 09:14
"incredible" military relic
Over a week or two ago I began planning a set of pages for Quondam that were to be entitled "the most incredible building of the 20th century." At the southern-most tip of the State of New Jersey, Cape May Point, there is a long abandoned World War II military bunker. When built, this bunker was 700 feet inland, but today "stands" about fifty feet out at sea. The coast there has shrunk, and the bunker is now very much an example of the Le Corbusian paradigm of a box elevated on pilotis. The bunker at Cape May Point is an enormous concrete hulk seemingly precariously poised on abundant tree-trunk pylons.
Besides the obvious, what I find incredible about this building is its concentration of symbolism and message:





1. that it is literally a concrete manifestation of it's time, namely the middle of the 20th century during World War II.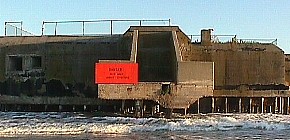 2. that it is (or at least was) a prime example of modern 'fortress' architecture.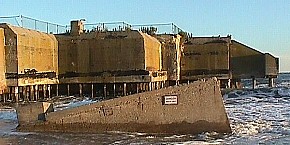 3. that it was once stealth, but over time has been explosed via the power of nature.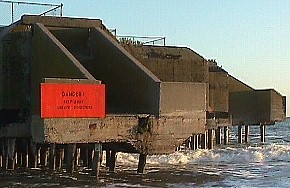 4. that it unwittingly now manifests exactly Le Corbusier's prime architectural theory for the 20th century, again the box raised on pilotis.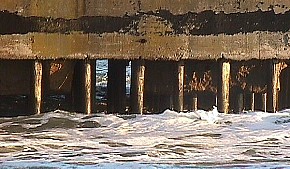 5. that it is now unsafe, inaccessible, and for all intents and purposes un-usable. Moreover, its future is uncertain, and may one day suddenly collapse.
In light of the recent sad, sad fate of the World Trade Center Towers, I think the bunker at Cape May Point will have to take second place when it comes to "the most incredible building of the 20th century."
2005.09.15 13:52
Mat buildings
Given that mat buildings have a strong precedent with Le Corbusier's design for a hospital of Venice, the notion of using similar mat buildings as part of the solution to New Orlean's architectural future isn't all that off the mark.


08091501 IQ01 Philadelphia street grid development
08091502 IQ02 Philadelphia street grid development


2014.09.15 11:52
The End of History?
The point of my [prior] post was to provide an alternative view to 'the end of history', one that sees the end (starting) over 4000 years from now.
The metabolic duality tilts slightly toward the creative, as destructive metabolism--catabolism--harbors some constructive properties.
Overall, I'm referring to stages of human imaginations and not some sort of stages of de-corporalisations.
Coincidentally, I just finished dossier: metabolism metabolic (going back almost exactly 20 years)--4403. Some of it seems far-fetched, almost all of it is unpolished, and it's there now to see if an actual working thesis could come out of it.
For me it is indeed strange going back to 1994
2014.09.15 17:41
The End of History?
I honestly don't know if I can answer any of your questions adequately, so whatever I write here now is not to be taken as anything definitive.
The source of the various imaginations comes from the physiological processes that occur within the body. That is to say that the brain acts assimilatingly, or metabolically or osmotically, etc. That's my (short) answer to the origin of the operations. (This is perhaps the most far-fetched conclusion, yet it was learning about the various physiologies of the body and then wondering whether the brain might have the same physiologies that sparked the notion of various human imaginations. Thus, in general, any answers as to origin and to be looked for within the body itself.)
The notion of electro-magnetism and electro-magnetic imagination comes from the notion that the human heart operates as an electro-magnet, and what the heart pumps (blood) is what makes it pump. Is the heart then like a perpetual engine? Interesting, electro-magnetic radiation defines light. Is the electro-magnetic imagination a perpetual beat of light? Who knows?
Since I feel as if my own imagination is slowly showing signs of ossification, meaning pliability has begun to harden, the implication of you're third question is perhaps the best all these notions may ever be useful for, if useful at all. But, then again, the answers really shouldn't come from me, but rather from how the body operates.