Burkhard Engelberger
architect; d. 1512 at Augsburg.
Burkhard Engelberger of Hornberg (Würtemberg, Germany) built, between 1467 and 1499, the churches of S. Ulrich and S. Afra in Augsburg (Germany). In 1494 he was called to Ulm (Würtemberg, Germany), to strengthen the supports of the spire of the cathedral, which had begun to sink.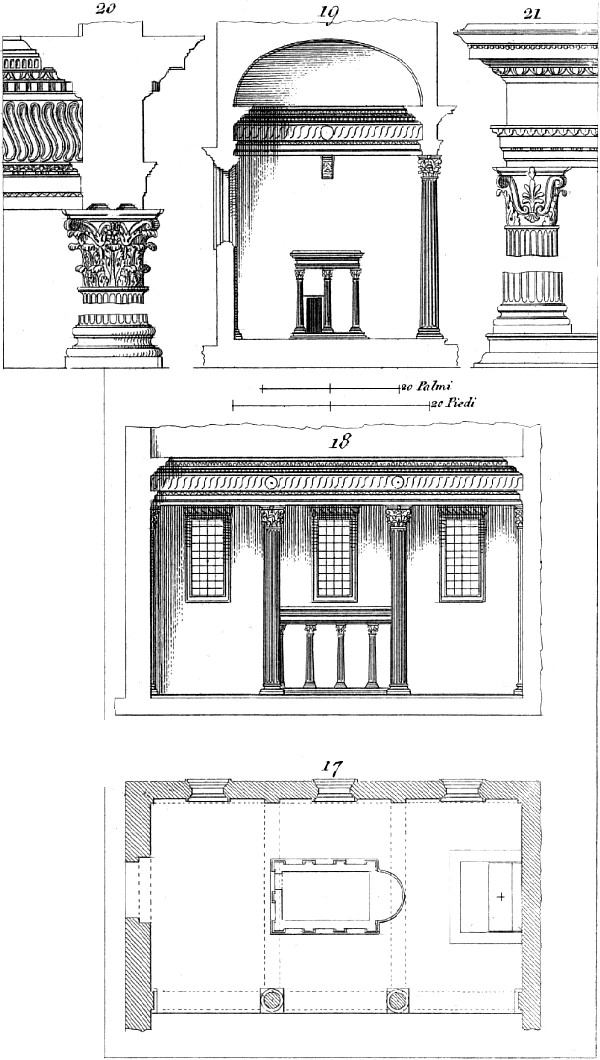 17. Plan of the chapel of the family of Rucellai in the Church of S. Pancrazio at Florence, built by Leon Baptista Alberti in 1467, for Jean Rucellai, in the center is the plan of the Holy Sepulchre, constructed by him after the model of that which is at Jerusalem.
18. Façade of the Chapel Rucellai, towards the nave of S. Pancrazio.
19. Transverse section of the same; above the small door to the entrance to the Holy Sepulchre is this inscription:--
JOHANNES RVCELLARIVS PAULI FIL
VT INDE SALVTEM SVAM PRECARETVR VNDE OMNIVM
CVM CHRISTO FACTA EST RESVRRECTIO
SACELLVM HOC AD INSTAR HYEROSOL SEPVLCRI FACIVNDVM CVRAVIT MCCCCLXVII
20. Base, capital, and profile of the entablature of the two Corinthian columns which decorate the entrance to the chapel; the freize of this entablature is ornamented with twisted flutings, a kind of ornament often employed by Alberti and Brunelleschi.
21. Details of the order which decorates the Holy Sepulchre in the center of the chapel: the exterior of this small temple is covered with precious marbles, in compartments arranged by Alberti.
Seroux