Pierre Chambiges (I)
architect; d. June 19, 1544.
A son of Martin Chambiges. He was associated with his father in the construction of the cathedrals of Troyes and Beauvais. In 1519 he was called to Troyes to inspect work at the cathedral executed by his brother-in-law, Jean de Soissons. In 1533-1534 Pierre was associated with Domenico da Cortona, Jacques Arasse, and others in the construction of the Hôtel de Ville, in Paris. In 1538 he was employed at Fontainebleau under the direction of Gilles le Breton. The most important achievement of Pierre Chambiges (I) appears to have been the construction of the old château of Saint Germain-en-Laye (near Paris), which, with the exception of the chapel (thirteenth century), was rebuilt by him on the old foundations after 1539.


Guglielmo di Giacomo Grigi, of Alzano ("Guglielmo Bergamasco," Temanza)
architect and sculptor (lapicida), in Venice; d. 1550.
Grigi's most important work is the charming Capella Emiliana at the church of S. Michèle in Isola near Venice. He assisted in the construction of the Procuratie Vecchie, the church of S. Andrea della Certosa (destroyed), the choir of the church of S. Antonio, and the Scuola di S. Rocco, all in Venice, and the Palazzo della Ragione in Vicenza.


Jean Soulas (Solas)
sculptor.
There is a contract between Jean Soulas, sculptor in Paris, and one Jean Tronsson for an Entombment and a Resurrection in the chapel of Notre Dame at the church of S. Germain-l'Auxerrois (Paris). He appears also in a contract of January 2, 1519, for the execution of certain figures of the screen which surrounds the choir of the cathedral of Chartres (see Texier, Jean le).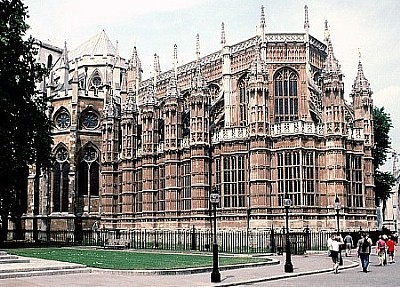 Robert and William Vertue, Chapel of Henry VII (London: Westminster Abbey, 1503-19).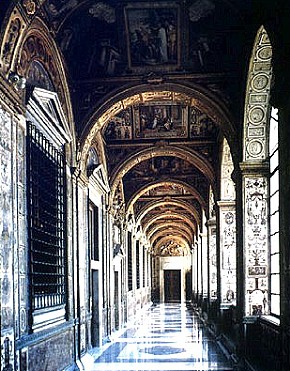 Raffaello Santi, Vatican Loggia (Rome: 1517-19).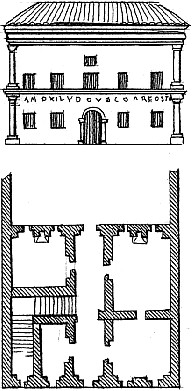 Plan of façade of the house of Ariosto at Ferrara; above the entrance door is the following:--
LVDOVICO AREOSTO IbIO
and on the frieze separating the ground from the first floor:--
PARVA SED APTA MIHI SED NVLLI OBNOXIA SED NON
SORDIDA PARTA MEO SED TAMEN AERE DOMVS
and above the center window of the first floor:--
SIC DOMVS HAEO AREOSTA PROPITIOS DEOS HASEAT OLIM VT PINDARICA
Seroux