1506.04.18 Julius II resumed the reconstruction of the Basilica of Constantine (S. Peter's), and placed it under the direction of Bramante


Antonio (Antonello) Gagini
sculptor and architect; b. about 1478; d. 1536.
A son of Domenico Gagini, and the most important member of this family. An interesting work of his is the monument of Geronimo Rosso, made for the church of the abandoned convent of the Frati Minori Osservanti di San Francesco at Castroreale, near Messina (about 1506). The contract for the splendid decorations of the apse of the cathedral of Palermo was made in 1510. This work was destroyed by Ferdinande Fuga in his restorations in 1781. Only fragments remain. About 1515 he was commissioned to decorate in marble the tribuna of the church of S. Cita at Palermo, his most important existing work. Antonello was succeeded by his sons Giandumenieo, Antonio, and Giacomo.


Guillaume Pellevoisin (Pellevoysin)
architect; b. 1447.
December 31, 1506, he was chosen to construct the new tower of the cathedral of Bourges, France, under the direction of Nicholas Byard and Jean Chesneau, and in 1515 was made sole director of the works at the cathedral. In 1522 he rebuilt the Hôtel Dieu at Bourges.


Jean le Texier (Jean de Beauce)
architect and sculptor.
Le Texier was employed in the construction of the church of La Trinité at Vendôme (Loir et Cher). November 11, 1506, he contracted with the chapter of the cathedral of Chartres to rebuild the northern spire of that edifice, according to a design on parchment which he that day exhibited. This new spire (clocher neuf), entirely of stone and one of the most splendid examples of the Flamboyant Gothic style in France, was completed in 1513. In 1514 Le Texier commenced the beautiful sculptured screen which surrounds the choir of the cathedral. This work, on which many sculptors were employed, was not finished at his death. Before 1510 he enlarged the church of S. Aignan at Chartres, by means of an arch with a span of fourteen metres thrown across the river Eure, on which he built the new choir of the church. Le Texier and Martin Chambiges were the last great champions of the Gothic style in France.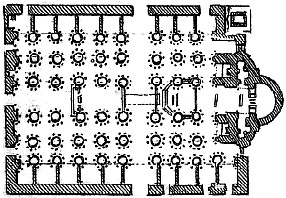 Cathedral of Seville in Spain; commenced in 1401 and terminated in 1506.
Seroux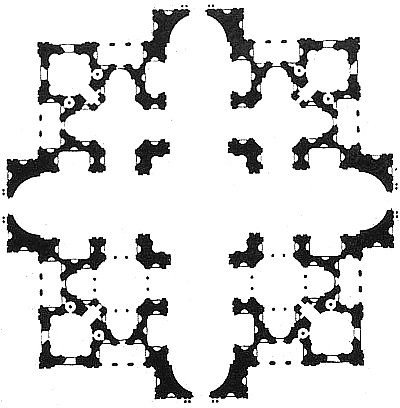 Bramante, Basilica of St. Peter (Vatican City: plan, 1506).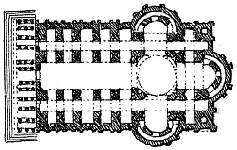 Plan of the Basilica of St. Peter of the Vatican, as designed and commenced by Bramante in 1506. Great changes took place in it after his death..
Seroux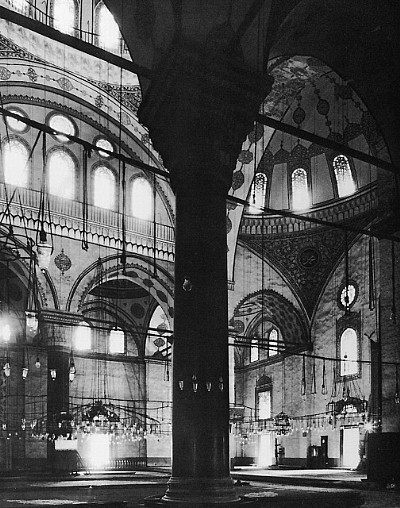 1501-06 Mosque of Bayazid II Istanbul