Giovanni Fontana
architect; b. about 1540; d. 1614.
Giovanni came to Rome with his younger brother Domenico, whom he assisted in many of his undertakings. He was engineer and contractor rather than architect, and was especially concerned with the restoration and construction of aqueducts, laying out streets, and the like. He arranged the water-works in the Vatican gardens and at the Villa Mondragone, at Frascati. The design of the fountain of the Acqua Paola, Rome, is attributed to Giovanni, although it is doubtless quite as much the work of his brother Domenico and his nephew, Carlo Maderna. When Domenico went to Naples in 1592 Giovanni succeeded him as papal architect under Clement VIII (Pope 1592-1605).


Lieven de Key
architect and sculptor; b. 1560; d. July 17, 1627.
An architect who practised in Leiden and Haarlem, Holland, toward the close of the sixteenth century. His chief work is the Renaissance fašade and stairway of the Stadhuis or Town Hall of Leiden. He built the Ondemannenhaus and the tower of the church of S. Anna at Haarlem.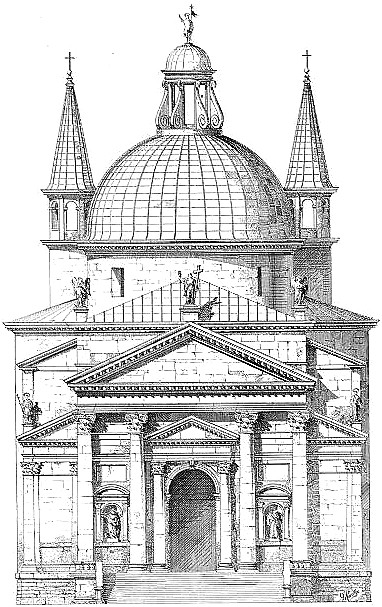 Andrea Palladio, Il Redentore (Venice: 1577-92).