Lambert Sigisbert Adam
sculptor; b. 1700, at Nancy; d. April, 1759.
The oldest of the three sons of Jacob Sigisbert Adam, a sculptor of Nancy, France. He went to Paris in 1719 and in 1723 won the Grand Prix de Rome. In Rome he studied especially the work of Lorenzo Bernini. In 1730 he took part in the competition for the fountain of Trevi in Rome. In 1733 he returned to Paris, and was joined by his two brothers Nicolas Sébastien and François Gaspard. The most important of their undertakings is the great fountain of Neptune in the park of the palace at Versailles.


Jean Charles Garnier d'Isle
architect and landscape architect; b. 1697; d. December 12, 1755.
December 3, 1730, he succeeded Desgots as dessinateur des plantes et parterres des jardins du roi. As one of the architects of Madame de Pompadour he was employed with L'Assurance to build the château of Bellevue. He designed the gardens of Crécy (Eure-et-Loir, France). At the time of his death he held the office of contrôleur général des bâtiments du roi. His son, Charles Hippolyte Garnier d'Isle, succeeded him in that office.


Louis François Roubillac (Roubiliac)
sculptor; b. 1695 (at Lyons, France); d. January 11, 1762.
A pupil of Balthazar, sculptor to the Elector of Saxony and probably also of Nicolas Coustou. He won the second Grand Prix at the Academic Royale in 1730. He appears first in England in 1738, when he made a statue of Handel for Vauxhall gardens, London. In 1743 he made the monument of John Campbell, Duke of Argyll (Westminster Abbey), in 1753 the monument to Admiral Sir Peter Warren (Westminster Abbey), in 1758 the statue of Shakespeare (British Museum), in 1761 the well-known Nightingale monument (Westminster Abbey).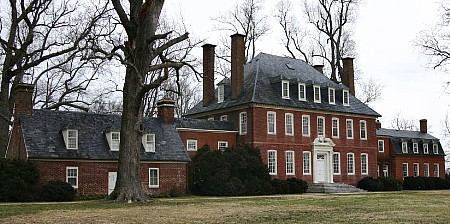 c. 1730 Westover Charles County, Virginia