Antonio di Francesco Gai
sculptor.
May 16, 1733, Gai was commissioned to make the bronze gates of the loggietta of the campanile in the Piazza di San Marco, Venice. He made also two monuments in the chapel of the Sagredo family in the church of S. Francesco della Vigna.


Jean Nicolas Servandoni
architect and painter; b. May 22, 1695 (at Florence); d. January 19, 1766 (at Paris).
Servandoni studied painting under Penini and architecture under Giovanni Rossi, and later was established in Paris as director of decorations at the opera. In 1733 he won the first prize in the competition for the construction of the façade of the church of S. Sulpice in Paris. (See Maclaurin and Chalgrin.) At S. Sulpice also he built the organ loft and decorated the chapel of the Virgin. In 1742 he built the great altar of the cathedral of Sens (Yonne, France), and in 1745 that of the cathedral of Reims, and about the same time that of the church of the Chartreux at Lyons. In 1752 he took part in the competition for the creation of the Place Louis XV, now Place de la Concorde, in Paris (see Gabriel, J. A.). In 1755 Servandoni was made court architect of King Augustus at Dresden, Saxony. He built the great staircase of the new palace at Madrid, Spain, and was employed at Brussels. Servandoni was especially successful in organizing fetes, processions, and the like.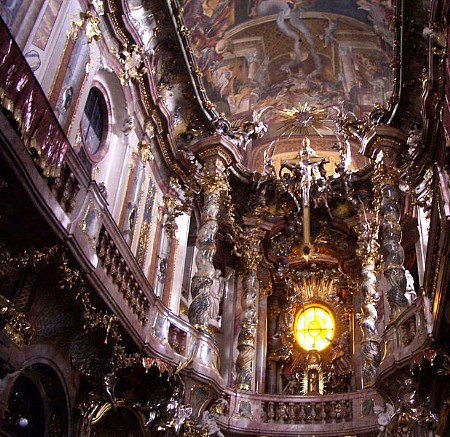 from 1733 St. John Nepomuk München