Horace Trumbauer, Whitemarsh Hall (Wyndmoor, PA: under construction, 1917.05.16).
2007.05.16 20:32
"I see sham pane, but no glasses"
It looks like Redwood Fisher (son of Miers, supercargo) and Joseph Jacques Ramée crossed the Atlantic Ocean (from Europe to the US landing mid September 1812) on the same ship. Miers met with Ramée at least two times, but it doesn't look like Ramée was ever at Ury. Was Ramée perhaps architect of the quondam St. John's Episcopal Church (1815) at American and Brown Street in Northern Liberties, Philadelphia?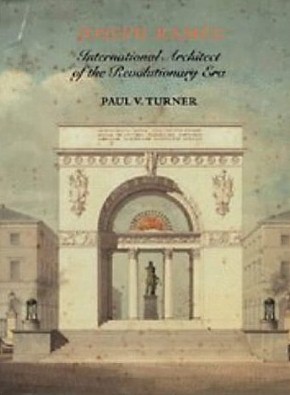 The entrance facade of St. John's Church looks just like this.
2008.05.16 10:38
Now try taking it to court.
When it comes to making "a diagram or a plan that shows the ideas of a building, I like to think at least big.


2008.05.16 16:06
The Official Paradigm Shift thread
In the future, everyone will be a starchitect for fifteen minutes. That should satisfy everyone.


2012.05.16 11:08
First Images of the 2012 Serpentine Gallery Pavilion by Herzog & de Meuron and Ai Weiwei
"In the future, all the past (and even the present?) will be a fiction."
or
[I'm just not myself till I] Rita Novel.
2013.05.16 11:32
FRANK GEHRY AT WORK on View in New York City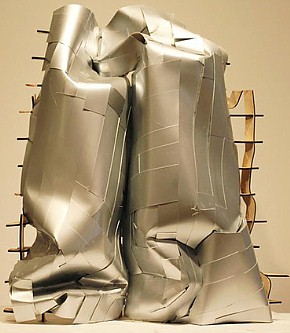 Remember Eisenman's September 2002 proposal for new towers adjacent Ground Zero?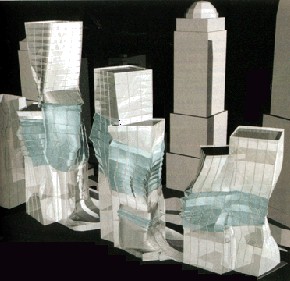 I don't have any books on Gehry post 1999, so I still have to investigate what Gehry was doing circa 2002. Actually, there is a more recent book I can get from the Free Library. I have a feeling that Eisenman was ahead of Gehry with regard to the whole crumbling/falling-down look/form.
Will history come to acknowledge the events of 9-11 as having a significant effect on early 21st century architectural form?
2013.05.16 21:19
FRANK GEHRY AT WORK on View in New York City
I used the word crumble (with a 'b'), and you used the word crumple (with a 'p'), and they are not the same thing. Yes, the crumple (ie, scrunch together) has been a part of Gehry's design vocabulary since the late nineties, but the crumble (ie, erode, fall apart) is much more recent in Gehry's work. It might well be significant that Eisenman's 2002 design is a combination of crumple and crumble.


14051601 Ideal City Reenactment perspectives 2244i09
14051602 Ideal City Reenactment aerial perspective 2244i10


15051601 IQ11 Le Antichita Romane Capitoline Hill 3392ui23
15051602 IQ11 Le Antichita Romane Forum 3392ui24
15051603 IQ11 model 3392ui25 b
15051604 ASouq Neighborhoods IQ12 plans 2446i00 b
15051605 ASouq 001 plan 2441i00 b
15051606 ASouq 002 plan 2442i00 b c


15051601 e2a Eckert Eckert Guggenheim Museum Helsinki


16051601 IQ43 Palace of Versailles Altes Museum/Berlin plans 2092i11
16051602 IQ44 Whitemarsh Hall Philadelphia Museum of Art Villa Savoye Tugendhat House plans 2141i04
16051603 IQ45 Houses for KFSchinkel plans 2239i24
16051604 IQ45 Houses for KFSchinkel Le Composites Jung Zaha House plans 2239i25
16051605 IQ45 Jung Zaha House plan model 2200x1100 site plan 2382i03
16051606 IQ45 Danteum Urban Components Farnsworth House Museum of Knowledge plans 2165i14
16051607 IQ46 Maison l'Homme House 10: Museum Kimbell Art Museum Wall House 2 plans 2196i10


18051601 Casa del Fascio plan 2161i03
18051602 Ichnographia Campus Martius Templum Martis plan 2110i136


19051601 Villa dall'Ava plans elevations section 2276i13


21051601 religious Stonehenge Temple of Poseidon Parthenon Great Stupa Temple of Horus Pantheon Temple of Venus and Rome Basilica of Sts. Peter and Marcellinus Basilica of St. Agnes Sts. Sergius and Bacchus Hagia Sophia Mahabodhi Temple Dome of the Rock Great Mosque of Damascus Shore Temple Mosque-Cathedral of Córdoba Lingaraja Temple Basilica of the Madeleine Thoronet Abbey Our Lady of Reims plans iq27 2061i19
21051602 Our Lady of Reims plan (plans elevations working data) 207ci02