2006.05.19 18:05
Add-A-Caption
Schlittenfahrt: "Hallo."
Koolhaas: "Wolfhilde, it's me, Rem."
Schlittenfahrt: "Are you calling for some metro-sex again?"
Koolhaas: "No, no. I'm calling if Josh and I can come over?"
Schlittenfahrt: "You mean like a metro-menage or something?"
Koolhaas: "No, no. Josh and I just split up and we now need your advise as to what we should do next."
Schlittenfahrt: "Oh, that's a shame, you and Josh made such a nice couple. Let me guess, it turned out you both snore, right? Anyway, come on over. I'm just in the mood to give you guys my new Baroque Pregnancy test. The test results will let each of you know what to do next."
Koolhaas: "Thanks Wolfhilde. We'll be right over. Oh, before I forget, did Rita Novel change her cell number or something? I tried calling her several times and nothing happens."
Schlittenfahrt: "Oh, she's just taking a vacation on Uranus. Apparently everybody's doing that these days."


2006.05.19 17:48
Rem=Renaissance Greg Lynn=Baroque
Try my patented Baroque Pregnancy test. If you fulfill all of the following requirements, then you are "bestimmt Barock".
1. does your work manifest a bifurcation of the real and the illusory?
2. does your work introduce mirroring as a henceforth dominant theme?
3. does your work invert reality into a reenactment of its own illusory mirror?
If you cannot answer yes to any of the above questions, then you are unfortunately not Baroque, however, you can now try my new patented fertility pills.


2006.05.18 19:57
Add-A-Caption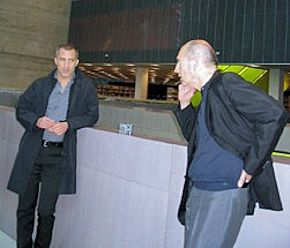 "Rem, Rita Novel is definitely Renaissance."
"Ja, ja, Josh, und Wolfhilde von Schlittenfahrt ist bestimmt Barock."
2006.05.17 13:17
PHILADELPHIA!!
...I have to go to PNC, the quondam Olney Federal Savings whose early 1960s rebuilding is a reenactment of an early Mies van dar Rohe unbuilt project for a brick country house, 1923. Virtually no one else but me sees this, but I'll bet you anything that's what the architect(s) looked at.





2006.05.16 14:04
The Planless House
Bye House and Danteum and a little bit of Villa Massimo and a little little bit of me.


2006.05.15 18:42
The Planless House
In fact, you can never have enough walls or columns.
2006.05.15 18:35
The Planless House
playing Dominos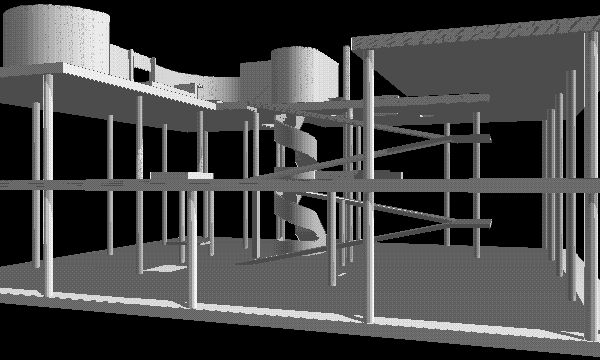 2006.05.15 15:41
The Planless House
there
before

after

not there

2006.05.14 19:31
OMA USA splitting from OMA Europe??
Slim lined sheik faced
Angel of the night
Riding like a cowboy
In the graveyard of the night
New York witch in the dungeon
Of the day
I'm trying to write my novel
But all you do is play

Mince pie dog-eye
Eagle on the wind
I'm searching through this garbage
Looking for a friend
Your uncle with an alligator
Chained to his leg
Dangles you your freedom
Then he offers you his bed

It seems to me to dream
Is something too wild
In Max's Kansas City
You a belladonna child
Riding on the highways
On the gateways to the south
You're talking with your Prada boots
And you're walking with your mouth

Baby Boomerang
Baby Boomerang
You never spike a person
But you always bang the whole gang
Thank you ma'am