2006.05.14 17:46
OMA USA splitting from OMA Europe??
Yes, Artifact of Ottopia No. 118 and Artifact of Ottopia No. 119 are presently sleeping in the basement.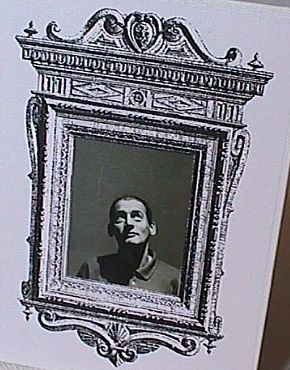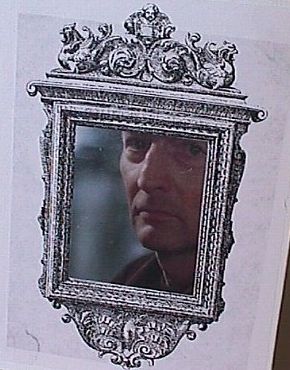 2006.05.14 13:13
Restrictions
via adso:
BELIEF & TECHNIQUE FOR MODERN PROSE
Jack Kerouac
List of Essentials
1. Scribbled secret notebooks, and wild typewritten pages, for your own joy
2. Submissive to everything, open, listening
3. Try never get drunk outside your own house
4. Be in love with your life
5. Something that you feel will find its own form
6. Be crazy dumbsaint of the mind
7. Blow as deep as you want to blow
8. Write what you want bottomless from bottom of the mind
9. The unspeakable visions of the individual
10. No time for poetry but exactly what is
11. Visionary tics shivering in the chest
12. In tranced fixation dreaming upon object before you
13. Remove literary, grammatical and syntactical inhibition
14. Like Proust be an old teahead of time
15. Telling the true story of the world in interior monologue
16. The jewel center of interest is the eye within the eye
17. Write in recollection and amazement for yourself
18. Work from pithy middle eye out, swimming in language sea
19. Accept loss forever
20. Believe in the holy contour of life
21. Struggle to sketch the flow that already exists intact in mind
22. Dont think of words when you stop but to see picture better
23. Keep track of every day the date emblazoned in your morning
24. No fear or shame in the dignity of your experience, language & knowledge
25. Write for the world to read and see your exact pictures of it
26. Bookmovie is the movie in words, the visual American form
27. In praise of Character in the Bleak inhuman Loneliness
28. Composing wild, undisciplined, pure, coming in from under, crazier the better
29. You're a Genius all the time
30. Writer-Director of Earthly movies Sponsored & Angeled in Heaven


2006.05.14 15:13
Restrictions
nice list adso. what inspired you today? No. 24 isn't all that sounds familiar.
emblazoned:
2006.03.19 11:46
"Breaking The Japanese Grid"
adso, yes, I understand the process; I too was once a 'foundation-level student'. What I've further learned, however, is that 'foundation-level students' are not the only ones with preconceived notions in that exercise. I wonder what would happen if 'foundation-level students' were instead introduced to a number of choices that they can then explore on their own, in a sense arbitrate their own volitions, and even change their volitions whenever the mood strikes.
How and why and what-if space is somewhat easily defined and even redefined by furniture is likely something that all good architects should continually observe, study and practice, and certainly not something to deny.
Quondam, a virtual museum of architecture, first originated from a basement that was years before changed into a 'recreation' room complete with built-in bar, and for almost eight years now originates from a bedroom that was also years before converted into a study--the room is now a workstation and library, yet it has always been the room to see the rising sun.
2006.05.14 14:54
Quondam's 10th Anniversary
Quondam - A Virtual Museum of Architecture is proud that it began in the basement of a rowhome in the Philadelphia neighborhood of Olney. Proud because the virtual realm of the Internet meant that real location didn't really matter because a virtual location can be just about anywhere on the planet and a little beyond even. Quondam moved out of the basement and into the former back bedroom upstairs September 1998, and the basement is now a sometimes artwork space and place of much "museumpeace" storage.


2006.05.14 13:08
OMA USA splitting from OMA Europe??
"De Spectaculis II" reenacted a year later?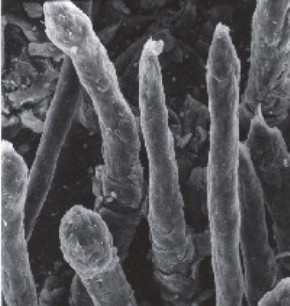 The Architecture of Split Ends


2006.05.14 12:35
14 May
1948: Israel becomes a state.
1999: ...discovery of the two states of the Ichnographia Campi Martii at the University of Pennsylvania's Fine Arts Library.
2003: It wouldn't surprise me at all if Flushing vis-à-vis New York City is very similar to Olney vis-à-vis Philadelphia.
2003: That's the only guarantee I can think of.
2004: St. Helena, Eutropia, St. Catherine de Ricci and Louis I. Kahn visit Israel.
2005: "De Spectaculis II" by Quintus Septimus Florens Tertullianus and Giovanni Battista Piranesi.
2006: REXNY splits from OMANY.
2006.05.11 17:58
ARCHITECTURE IS NOT A RELIGION
Artifact of Ottopia No. 44 to the rescue!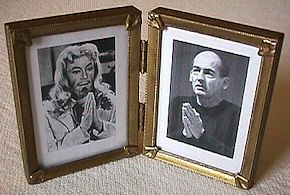 2006.05.10 19:26
Depth
Louis I. Kahn, Yale University Art Gallery, 1951-53.
Louis I Kahn and Anne Tyng, City Tower Project, 1952-57.
The geometric studies of Kahn and Tyng from 1951 to 1957 may have a strong bearing on "depth" as per the initial post/query of this thread.
Louis I. Kahn, Jewish Community Center (Trenton Bath House), 1954-59.
Colin Rowe and Robert Slutzky, Transparency: Literal and Phenomenal, written 1955-56.
Louis I. Kahn, Salk Institute for Biological Studies (Meeting House with volumetric cutouts, 1961), 1959-65.
Colin Rown and Robert Slutzky, Transparency: Literal and Phenomenal. first published in Perspecta, 1963.


2006.05.07 10:24
What if?
It turns out I read the cards wrong. It's not that I have five years left to live, rather, I've been dead for the last five years. Now I'm really pissed because all the work I've been doing for the last five years really means nothing. Well, now I know, being dead's a bitch.


2006.05.05 17:25
Architecture Writers in Philadelphia...
...of the last hundred years or so.
.00
Kimball, Fiske (Sidney Fiske Kimball), 1888-1955, American architect and writer, b. Newton, Mass. He was professor of architecture and fine arts at the Univ. of Michigan (1912-19) and of art and architecture at the Univ. of Virginia (1919-23) and was in charge of the fine arts department, New York Univ. (1923-25). From 1925 until his retirement in 1955 he was director of the Philadelphia Museum of Art and was responsible for the acquisition of many important collections. Much of his architectural work consisted of the restoration of old houses, e.g., of Monticello, the Jefferson home, near Charlottesville, and Stratford, the seat of the Lees, both in Virginia. With G. H. Edgell he wrote A History of Architecture (1918). He was also the author of Domestic Architecture of the American Colonies (1922), American Architecture (1928), and The Creation of the Rococo (1943).
Almost everything I know about Fiske Kimball comes from reading Triumph on Fairmount, the first time in early 1975. While in Philadelphia Kimball and his wife lived at Lemon Hill, which contains one of my favorite rooms in America, the main oval parlor.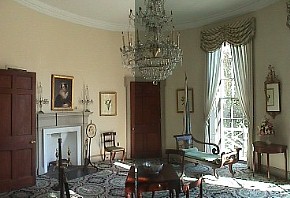 I like how an architect and architectural historian can also be a museum director. It's strange to think that it was an architect who was ultimately most instrumental in getting the Duchamp collection in the Philadelphia Museum of Art--Kimball's letters about his last visit in Los Angeles with the Arensbergs are within A Triumph on Fairmount. Although my favorite 'picture' of Fiske Kimball is:
A woman member brought a friend from New York to visit the museum. Fiske met them in the corridor. To the astonishment of the lady from New York, he knelt and kissed the member's hand. "We are not often honored with such charming visitors," he said. "Allow me to conduct two such exquisite creatures to the latest of our period rooms."
"This is our Louis Quatorze gallery. What things these walls have seen! The Grand Monarque was a great king and a great one for the ladies. What beautiful mistrisses he had! Ah, if you ladies had only lived then he would surely have numbered you among them. Wouldn't you have liked that?" and he dropped to his knees again.
Kimball was forced to retire soon after that.
I actually haven't read any of Kimball's books myself, although I do have A History of Architecture and his "discovery" of the origin of the Rococo is definitely on my to-do list. Yet, I have walked within the Louis Quatorze and Duchamp galleries numerous times. Actions speak louder than words?
Fiske Kimball is a dear recurring character in The Odds of Ottopia and Leaving Obscurity Behind.


2006.05.05 16:55
Architectural Criticism
Goeff, it's not true when you say, "And no one says a thing." If you would read A Quondam Banquet of Virtual Sachlichkeit: Part I and A Quondam Banquet of Virtual Sachlichkeit: Part II you would see that a whole bunch has already been said/written within the realm of architectural criticism about the built environment that you say is being ignored. I think you ignore a lot about present-day architecture criticism yourself!
And I love my local Home Depot--it's on the site of the world's largest building implosion, right in Philadelphia no less. Certainly not a place I ignore.
2006.05.05 16:22
Someone want to clue me into the Deleuze, de Landa, architecture connection?
Here are five of my favorite "body plans"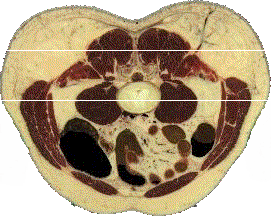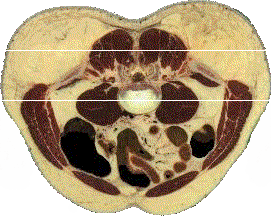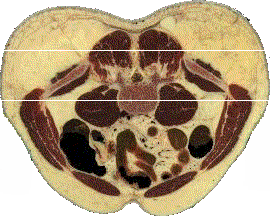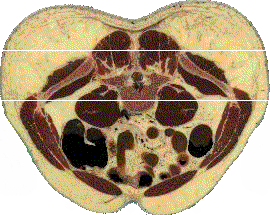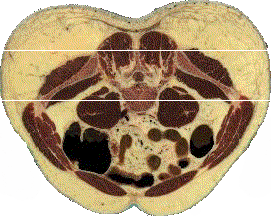 (as an architect) chronosomatics is my own silly theory...