François de Cuvilliés (II)
architect, engineer, and decorator: b. 1734 (at Munich, Bavaria); d. about 1805.
A son of François de Cuvilliés (I). He succeeded his father as architect of the Bavarian court. He edited his father's works in 1773, and published a Bavarian Vignola and studies of monuments, fountains, palaces, tombs, bridges, etc.


Francis Grose
antiquary; b. about 1731; d. May 12, 1791.
Grose published in 1773 the first number of his Antiquities of England and Wales, and completed the work in 1787 (London, 4 vols, folio). The Antiquities of Scotland was published in 1789-1791 (London, 2 vols. 4to). The Antiquities of Ireland, begun by him, was published after his death by Dr. Edward Ledwich (London, 1791-1795, 2 vols. 4to). The Military Antiquities appeared in 1796- 1798 (London, 2 vols. 4 to).


Friedrich Ludwig Sckell
landscape gardener; b. September 13, 1750; d. 1820.
Studied landscape gardening in Paris, and in 1773 went to England and worked under the influence of Brown and Chambers. Returning to Germany, he laid out many parks and gardens, and in 1804 was made Hofgartenintendant at Munich, Bavaria. He laid out the park at Nymphenburg and the English garden in Munich under the direction of Count Rumford.


Ignacio Vergara
sculptor; b. 1715 (at Velencia, Spain); d. April 13, 1776.
A son and pupil of Francisco (I) Vergara. He enjoyed a high reputation in Valencia, and left many works there. Among the best of these is a group of angels in the façade of the cathedral. With his brother, Josef Vergara, he established the Real Academia de S. Carlos in Valencia, of which he became director in 1773.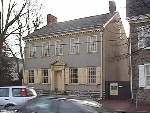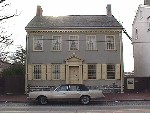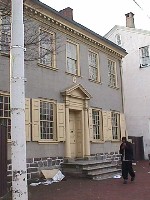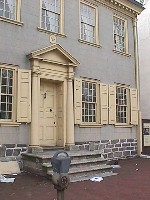 David Deshler, Deshler Morris House (Philadelphia: 5442 Germantown Avenue, 1772-73), images: 2001.12.23.
In 1793 the Yellow Fever epidemic swept through the capital of Philadelphia, and people from all over the city sought refuge in the country. President George Washington and his cabinet escaped the Fever in Germantown. Washington lived and conducted business from the Deshler-Morris house. At the time it was the Franks House, as it had passed to its second owner, Colonel Isaac Franks. During November, 1793, Washington lived in the house and met with his cabinet: Thomas Jefferson, Alexander Hamilton, Edmund Randolph and Henry Knox. Much official and important business went on in the so-called "Germantown White House."
www.ushistory.org/germantown/lower/deshler.htm