John Britton
antiquary: b. 1771 ; d. January l, 1857.
John Britton was the son of a village storekeeper. At the age of sixteen he was apprenticed to his uncle, a tavernkeeper, in London. In 1799 he published his first book, The Adventures of Pizarro. He next undertook, with the assistance of E. W. Brayley, the Beauties of Wiltshire (1801-1825). The Beauties of England and Wales appeared about the same time. Britton and Brayley withdrew from this work in 1814. He published independently the Architectural Antiquities of Great Britain (4 vols., 4to, 1807- 1814). A fifth volume, containing A Chronological History and Illustration of Christian Architecture, was published in 1826. After this came Cathedral Antiquities of England (14 vols., 4to, 1814-1835). With the cooperation of A. C. Pugin, he produced Specimens of Gothic Architecture (1823-1825), Architectural Antiquities of Normandy (1 vol., 4to, 1828), and Illustrations of the Public Buildings of London (2 vols., 4to, 1825-1828). He published independently a Dictionary of the Architecture and Archaeology of the Middle Ages (1 vol., 4to, 1838), and, with Brayley, a History and Description of the Ancient Palace and Houses of Parliament at Westminster (1834-1836). The Autobiography of John Britton appeared in 1850.


Martin Friedrich Rabe
architect; b. 1775; d. 1856 (at Berlin).
From 1801 to 1804 he was employed on the Schloss at Weimar (Germany). In 1810 he was appointed professor at the Academy of Architecture in Berlin, and from 1829 to 1842 was architect of the Schloss in Berlin.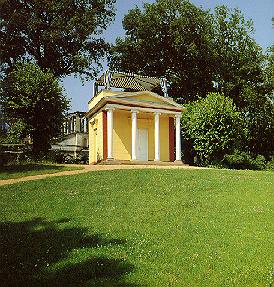 Karl Friedrich Schinkel, Pomona Temple (Potsdam: 1800-1801).