2015.03.27 14:19
Turns out the U.S. has more museums than the combined number of Starbucks and McDonalds
3120u Hall of Architecture
3120v architecture on display
3120w "...looking for the double theater that is probably even more there."
3120x The absolute rule of architecture is...


2015.03.27 14:58
Turns out the U.S. has more museums than the combined number of Starbucks and McDonalds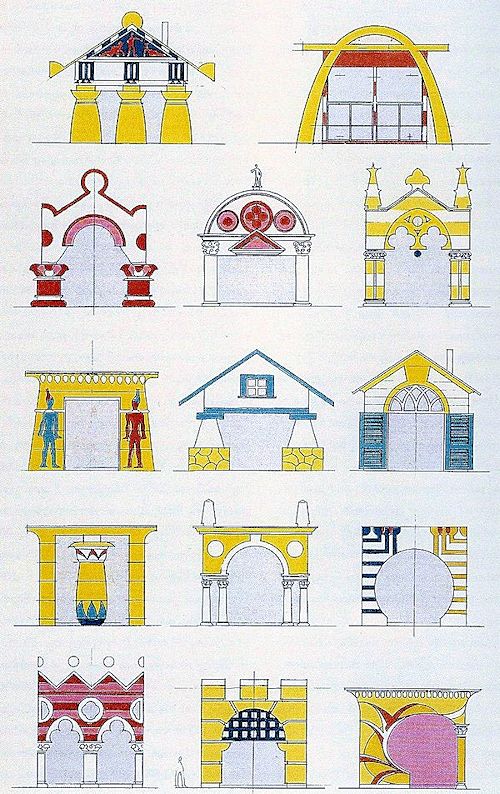 Architectural history [museum] reduced to a few lines.


2015.03.29 11:51
The Architect as Totalitarian
EKE, the point of your last post doesn't follow logically. Describing classical architecture as "the architecture of European colonial repression" or Southern Colonial architecture as "the architecture of slavery" is a criticism of the Classical style, particularly pointing out that Classical Architecture is not a universal sign of rightful order and beauty. Again, the criticism is of the style of architecture, but not of the architects of classical architecture themselves. Yes, one can be critical of Le Corbusier's words, but in no way is his style of architecture rightly considered fascist or Nazi.
2015.03.30 09:57
The Architect as Totalitarian
EKE, the game you're trying to play is beginning to be childish and bratty. If you want to call out Le Corbusier's style of architecture, at least use examples of Le Corbusier's architecture. For example, there is Le Corbusier's International Planning Competition for Berlin, 1958.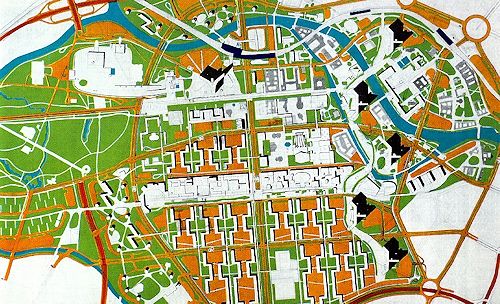 You can maybe start by calling out veiled Nazi references in the plan. (Ha!)
Otherwise, you might actually learn something (about style and design) by actually looking at the project.


2015.03.30 13:24
The Architect as Totalitarian
So, who do we blame here then? It's all Le Corbusier's fault because he had ideas about modern urbanism, drew plans conveying his ideas and published them? Or is the DDR to blame for trying to follow the bare minimum of Le Corbusier's ideas and plans?
The truth of the matter is that this type of housing was built all over the planet because of the expediency and least expense with which the projects could be built. Mass housing was pretty much a necessity throughout much of the 20th century, and Le Corbusier was certainly not its only proponent. In any case, much has subsequently been learned about 20th century mass housing, both positive and negative. Mass housing is still an issue, still globally even, and I'm not sure that anything other than an evolved modern approach is still a large part of the solution.
Who knows, if Le Corbusier was in fact the architect/designer of all the mass housing of the 20th century then Earth might be a much nicer place.


2015.03.30 16:01
The Architect as Totalitarian
EKE, and I'll leave you off the hook as long as you remember that "Classical Architecture is not a universal sign of rightful order and beauty."


2015.04.04 15:37
Amazon's new Dash button and the value of running out of toilet paper
The real purpose of the dash button is to guarantee that people spend a greater portion of their household expenses budget via Amazon.
Is there some way to guarantee that people spend a greater portion of their architecture budget via their local architect?


2015.04.05 09:49
What's your favorite piece of architecture?
Ury
Aedicula Intercourse
Whitemarsh Hall
Courthouse with Garage
Goldenberg House
Levy Memorial Playground
Electronic Calculation Center Olivetti at Rho-Milan
Palais des Congrès
Acadia National Park Headquarters Building
House 15
Museum for Nordrhein Westfalen
Wallraf-Richartz Museum
Eclectic Houses
Dresdner Bank
Retreat House
Wagner House
Mayor's House
Battery Park City
Parkway Interpolation
Analogous Building
Palace of Ottopia
Good-Bye House
Mosque Q
House of Shadows Bye
Gooding Trice House
Duchamp Inn
Ichnographia Ink Blot
Headquarters of D.A.T.A.
Courthouse Plus Ultra
Casa Unbekannt 001
New Not There City
Germantown Avenue University of Architecture
Cubist ICM
Whitemarsh Hall is the only building here that I have actually experienced, and Ury is the only other building here to have actually existed, but I live where Ury once was so it's a completely cerebral 'piece' of architecture for me now. In fact, as the first half of the list demonstrates, my favorite architecture teaches me something beyond what actually exists, and the latter half of the list is a wishful manifestation of architecture that perhaps goes beyond even that.
2015.04.06 11:05
What's your favorite piece of architecture?
Rather than just lists, it might be interesting to know whether an architect's favorite architectures are even experientially known by the architect. For example, of all the different buildings above, the only building that I have known inside and out is Whitemarsh Hall in its 1970s abandoned state. The other buildings I've experienced--Rialto Bridge, Habitat, Sydney Opera House, Loyola Law School, Vanna Venturi House, Gehry House--I've really only visited briefly and seen only from the outside. As to the rest (posted by others), I know those buildings only by pictures and sometimes also by drawings (plans, elevations, etc.). And my own list I know via interacting with the designs in 2D and 3D CAD. I seriously wonder if it is realized how much appreciation of architecture is oft times more virtual than real. Like, my choices of favorite piece of architecture would be completely different if limited to within a 5 miles radius of where I live.
Frank Weise, Sheppard Residence, 1950-51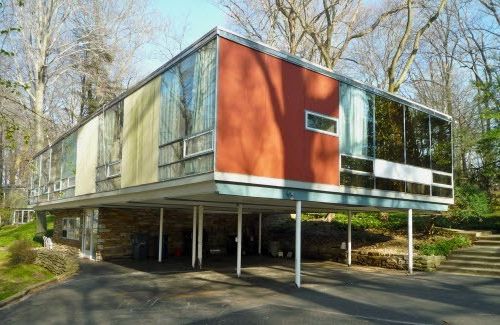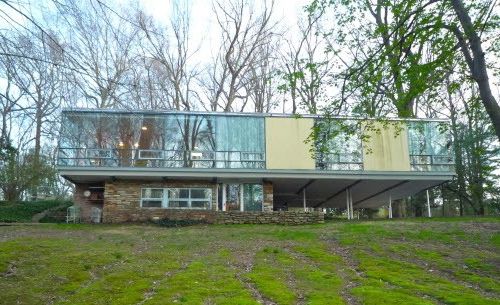 About 3 minutes away by car. Drive by it a few times a month, Never been inside, but there are interior shots online. Wish I knew it was on sale a few years ago; would have seriously considered buying it. Koolhaas wo bist du?


2015.04.08 19:41
Low-income housing in Los Angeles: A look at the past, present and future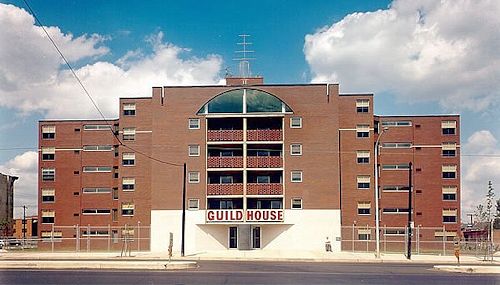 Do most architects today know that Guild House is "low-income housing"? It will be 50 years old sometime within the next 365 days.