2016.06.23 10:58
23 June
1996.06.04
Within architecture, however, there are many topics to document: the Parkway project, the museum of architecture project, the architectural promenade, and just the documentation of each of the unbuilt buildings computer models.
1996.06.15
Seroux -- museum of architecture
After looking through Seroux's book, it would be beneficial and also possible to scan the plans and the elevations therein and then compose the data all at the same scale. The final document, so to speak, might be a part of Scale and Architecture.
I read some of Vidler's The Writing of the Walls, the last chapter, and it is full of good information that reinforces the idea behind Scale and Architecture. The whole notion of a "museum" of architecture is exactly what's being done with the computer and CAD models. The historical background provided by Vidler brings the issue of "museum" to the fore, and the role of the computer in the whole process is heightened.
1996.06.18
...the notion of a virtual museum of architecture... ...data as a museum... ...both creator and curator... ...designing and organizing and managing a Museum of Architecture.
1996.06.21
another museum of architecture reference
Another reference to the "virtual museum of architecture" came from reading some in Rossi's The Architecture of the City. I am reading the chapters (headings) in reverse order and in the introduction to the 2nd Italian edition, Rossi makes reference to the Canaletto painting Capriccio.
From Rossi, p. 116:
"After I wrote this book and from the concepts I postulated in it, I outlined the hypothesis of the analogous city, in which I attempted to deal with theoretical questions concerning design in architecture. In particular I elaborated a compositional procedure that is based on certain fundamental artifacts in the urban reality around which other artifacts are constituted within the framework of an analogous system. To illustrate this concept I gave the example of Canaletto's fantasy view of Venice, a capriccio in which Palladio's project for the Ponti di Rialto, the Basilica of Vicenza, and the Palazzo Chiericate are set next to each other and described as if the painter were rendering an urban scene he had actually observed. These three Palladian monuments, none of which are actually in Venice (one is a project; the other two are in Vicenza), nevertheless constitute an analogous Venice formed of specific elements associated with the history of both architecture and the city. The geographic transposition of the monuments within the painting constitutes a city that we recognize, even though it is a place of purely architectural reference. This example enables me to demonstrate how a logical-formal operation could be translated into a design method and then into a hypothesis for a theory of architectural design in which the elements were preestablished and formally defined, but where the significance that sprung forth at the end of the operation was the authentic, unforeseen, and original meaning of the work."
Immediately think of the Strasbourg, Dusseldorf, Hurva composite building created in 3-d model form --the composite is perhaps an analogous building. Furthermore, Rossi's point provides fuel for future manipulation of the models, and Canaletto's painting in particular provides inspiration and a grounding in terms of a "plan" for the "virtual museum" itself.
Overall, I see the analogous city concept working in tandem with the "virtual museum of architecture" idea, and, at this point I'm also interested in adding the collage city idea/methodology to the "museum" idea. I could say that there are three historical ideas at the foundation upon which to build the "virtual museum."
2016.06.26 10:47
Inga Saffron calls BIG's new Navy Yard building "mesmerizing", "reminiscent of a Richard Serra sculpture"
Saffron's evocation of "a Serra sculpture" . . . nice. I've experienced a large Serra sculpture only once--circa 1993, Gagosian Gallery, New York--it was like two of the above facades facing each other, maybe 30% of the size. I remember feeling it was like being within or standing beside the hull of a very large ship. Is this new office building now subliminally contextual of the site's past? Isn't there even something like a giant periscope inside?


2016.06.26 11:05
Inga Saffron calls BIG's new Navy Yard building "mesmerizing", "reminiscent of a Richard Serra sculpture"
And, if anyone goes to visit this building, make sure you also check out the SS United States, docked a bit further up the Delaware River. I wonder, did Ingels do that? In any case, it's certainly a sight to behold. (I live with someone that celebrated their first birthday on the SS United States as they were sailing from Europe to America.)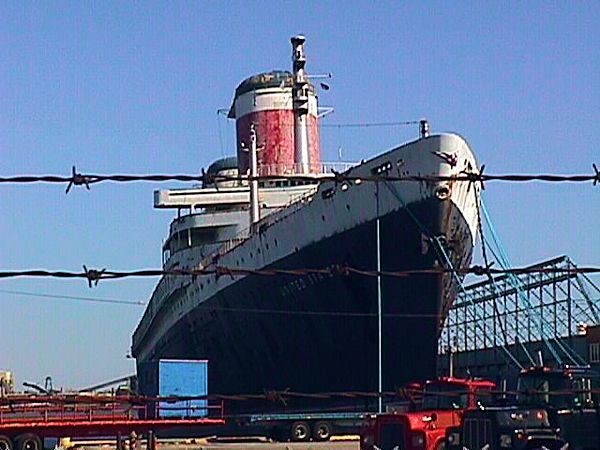 2016.06.28 11:28
Is drawing dead?
Like chatter of clouds already suggested, the example of Mid-field does not "implicitly point backwards to a computer-centric design process." For a mature take on this topic, see Sean Keller's "Playing the Field" (Artforum, Summer 2011).
2016.06.28 12:43
Is drawing dead?
So you're saying that Walt Disney Concert Hall is "a piece of crap that no one - architect, builder, or user cares anything for in the least"? Can you be any more immature?


2016.06.28 14:14
Is drawing dead?
2000.01.21
everything: Image and actuality
I haven't been to Bilbao [nor do I think I'll ever park a car outside Walt Disney Concert Hall], but I've been to Sydney [early January 1987] (didn't hear any Opera though). I'm not much of a critic when it comes to visiting buildings, because I inevitably like most of them once I see them in person. So it comes down to anecdotes. You can have an inexpensive lunch on the terrace-plinth of the Opera House overlooking the harbor. There are signs on the tables under umbrellas; they read: "Do Not Leave Your Food Unattended". The reason for this warning, and I've seen it happen, is that the moment you leave food on the table unattended, about a dozen or so sea-gulls will "attack" your lunch. Yikes! indeed.


2016.06.30 11:43
Open Call for Submissions: "Domesticity"
Actually, floorpaper is the next big thing.


2016.07.07 11:03
7 July
...read a half hour ago:
It is the being forcefully organized that Wilde resents as much as the ignorance cultivated. 'Whenever a community or a powerful section of a community, or a government of any kind, attempts to dictate to the artist what he is to do,' he wrote,
Art either entirely vanishes, or becomes stereotyped, or degenerates into a low and ignoble from of craft. A work of art is the unique result of a unique temperament. Its beauty comes from the fact that the author is what he is. It has nothing to do with the fact that other people want what they want. Indeed, the moment that an artist takes notice of what other people want, and tries to supply the demand, he ceases to be an artist, and becomes a dull and amusing craftsman, an honest or dishonest tradesman. He has no further claim to be considered an artist. Art is the most intense mode of Individualism that the world has known. I am inclined to say that it is the only real mode of Individualism that the world has known . . . alone, without any reference to his neighbours, without any interference, the artist can fashion a beautiful thing; and if he does not do it solely for his own pleasure, he is not an artist at all.


2016.07.13 09:35
Pokemon Go
Going back a few years, on one of my walks through Lorimer Park, I noticed this young guy looking all-around this tree, so I asked what he was doing. He happily explained geocaching to me. A day or two later I saw a young couple searching around the same tree--geocaching again, and I was even mentioned in the prior guy's posting. Not 20 yards away was an older Asian couple also searching the ground all along the allee of trees--they were gathering chestnuts, apparently very tasty ones too.
Of the three augmented realities just described, the two without electronics seem the most fun.
ps It's in that same area that I do most of my deer spotting at dusk mid-August through October.
2016.07.13 12:27
Pokemon Go
I "discovered" Lorimer Park the first day I took a walk there--Thanksgiving Day, 2012. I "connected with"/learned from Lorimer Park over the several hundred subsequent walks I've taken there.
Coincidently, I've been sorting out architecturally augmented maps/plans of exactly that geocaching area I just wrote about. The tree and allee are almost exactly in the middle, and check out what houses are in the (deer spotting) field 500 feet to the south.
It turns out the most deer spotting occurs 2500 feet directly north of where I'm sitting right now (virtually inside Villa Appositional). And, without my telling you, you'd never guess that the Trenton Jewish Community Center Bathhouse is directly over Louis Kahn's grave.


2016.07.13 14:49
Noah's Ark replica opens in Kentucky biblical theme park to "compete with the Disneys and the Universals"
2004.02.26 12:36
"God's Bricklayer"
I read the following for the first time last night.
"Cardinal Dennis Dougherty took off for a three-month European vacation in early May 1934. Several weeks later, a declaration of war on the movie industry in the form of a pastoral letter from the Cardinal was read in all the churches of the Philadelphia Archdiocese. Hollywood's obsession with sex and crime," said Dougherty, was a "vicious and insidious attack . . . on the very foundation of our Christian civilization, namely the sacrament of marriage, the purity of womanhood, the sanctity of the home, and obedience to lawful authority." Dougherty's archdiocese covered most of southeastern Pennsylvania, so the letter was heard by some 825,000 Catholics, almost all of whom would have been in church that Sunday, as they were every Sunday. Their marching orders were straightforward: Philadelphia Catholics were forbidden, on pain of serious sin, to go to any movies, of any kind, anywhere." "Samuel Goldwyn made a quiet visit to the Cardinal's home and reportedly offered to do whatever was necessary to lift the ban. Dougherty was polite but said, "I am adamant. I will not lift it. That will be left to the moral judgment of your products."
the above quotations from: Charles R. Morris, American Catholic: The Saints and Sinners Who Built America's Most Powerful Church (New York: Random House, 1997).
"God's Bricklayer" entitles the chapter on Cardinal Dougherty, apparently a name the Cardinal occasionally applied to himself.
What a difference seventy years makes?
I like how John Kelly, the father of Princess Grace, called Cardinal Dougherty a "son-of-a-bitch." I like too how John Kelly's construction company built Cardinal Dougherty High School, once the largest Catholic High School in the world, and my Alma Mater.
Since most of Otto's friends are presently staying at St. Catherine (de Ricci) Hall, the quondam powerhouse of Elstowe (literally next door to Tyler School of Art), no doubt they will someday soon visit Cardinal Dougherty High School which is close by in St. Helena Parish. Ludwig, Jim, and Arcadius (elder son of Theodosius, brother-in-law and first cousin one generation removed of Maria), however, are staying at the castle of Arcadia University, the quondam Beaver College. Trumbauer and 'God's Bricklayer' are helping Otto organize all the various site-seeing tours for Otto's Lenten guests. This all works out perfectly as a preliminary run of the official tours to be part of the forthcoming Horace Trumbauer Architecture Fan Club Convention. Sam Goldwyn has agreed to surprise Dennis at one of the Thursday night dinner parties, followed by a movie (Death in Venice? High Art? Barbarella? The Player?--I mean how many times can everyone watch Titus?), of course.