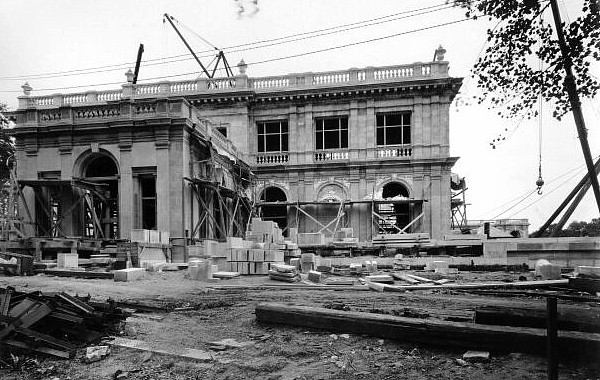 Horace Trumbauer, Whitemarsh Hall (Wyndmoor, PA: under construction, 1917.07.13).
1997.07.13
Hindu temples: fertilized architecture
I am now convinced that the Hindu temple is the prima example of fertilized architecture because it is used ritualistically as a penetration of the womb, and the form of the sanctuary itself combines both the male and female sexual organs--it is the womb on the inside and the phallus on the outside.


1999.07.13 22:52
the pleasure of (being lost in translation) architecture
My favorite: The configuration enters another one is connected with the both.


2003.07.13 15:39
Re: a tale of two realities
Earlier today I re-watched Koolhaas on Charlie Rose to capture Koolhaas noticeably smiling when the subject of Prada came up. Having now taken a closer look it is hard to say whether Koolhaas is smiling (or at least as close to a smile that Koolhaas can get to) because of Prada or because he just got to say on TV that "If you extrapolate [the] current situation and current trends and the way architecture is evolving, it's maybe slightly too strong to say that ultimately everything will be embedded in a casino."


2004.07.13 17:39
plan free
...Gordon's also pinned down the content of his "moldy paper on mildew". He's putting together an analysis of the architecture Louis Kahn and Robert Venturi were designing in the years just before he (Gordon) was in architecture school.
2007.07.13 08:40
Sarcastic Architecture
Found what may be the most sarcastic (but also the most critical) passage within the "ugly and ordinary" texts of Learning from Las Vegas:
"The Boston City Hall and its urban complex are the archetype of enlightened urban renewal. The profusion of symbolic forms, which recall the extravagances of the General Grant period, and the revival of the medieval piazza and its palazzo pubblico are in the end a bore. It is too architectural. A conventional loft would accomodate a bureaucracy better, perhaps with a blinking sign on top saying I AM A MONUMENT."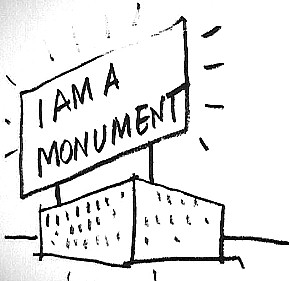 2007.07.13 11:02
Quakers take green building to the Capitol
Interestingly, the first room designed to house the U.S. House of Representatives, in Congress Hall (1787-1793), Philadelphia, is very similar in design to the Friends Meetinghouse (1803-11) on Arch Street, Philadelphia. I remain curious as to whether both designs follow an older Quaker Meeting precedent.


14071301 Villa Savoye model at Ury House and Farm 2090i19
14071302 Villa Savoye site plan plan model 22002 context 2156i18


15071301 Sou Fujimoto Ochoquebradas House Los Vilos


16071301 IQ61/11 grid blocks Karastan plans 3392vv82
16071302 IQ61/12 Karastan Pennypack Creek plans 3392vv83
16071303 IQ61/14 grid blocks Karastan plans 3392vv84
16071304 IQ61/15 grid blocks Karastan plans 3392vv85
16071305 IQ61/15 Karastan grid Blocks plans 3392vv86


18071301 CCTV elevations work 2332i16
18071302 CCTV model 2332i17 b
18071303 Maison Dom-ino Salon d'Automne Maison du Peintre Ozenfant Maison La Roche-Jeanneret Villa Stein de Monzie Villa à Garches Single House Weissenhof Villa Baizeau Composition Three Maison de M.X. Villa Savoye Pavillon Suisse Plan Obus Maison Curutchet Capital Complex at Chandigarh Notre Dame du Haut Governor's Palace Palace of Assembly Unité d'Habitation Monastery of La Tourette Maisons Jaoul Villa Shodhan Museum of Knowledge Tower of Shadows Carpenter Center for the Visual Arts Electronic Calculation Center Olivetti St. Pierre at Firminy-Vert Maison de l'Homme Palais des Congrès Un Pavillon d'Exposition plans 2140i22
18071304 National Museum of Roman Art plans elevation section 224hi01
18071305 Menil Collection plans section 224ii01
18071306 Barcelona Museum of Contemporary Art model work 225hi02


19071301 Mount Pleasant plan site plan in situ iq26 2109i09
19071302 Altes Museum 1830 Berlin plans iqq19 2120i54
19071303 Philadelphia Museum of Art plan iq23 2142i19


20071301 Pantheon Hurva Synagogue plans sections analysis circle/square 206gi53
20071302 Pantheon Hurva Synagogue plans sections analysis circle/square models 206gi54


21071301 religious Kölner Dom Pazzi Chapel Tempio Malatestiano Santo Spirito Santa Maria della Grazie Tempietto St. Peter's Basilica/Square Sehzade Cami San Giorgio Maggiore Il Redentore San Carlo alle Quattro Fontane Sant'Andrea al Quirinale plans iq27 2086i02
21071302 Sant'Andrea al Quirinaleplan elevation sections working data 2094i03