1997.09.05
Campo Marzio - the triumphal way
...an article in Ritual on the story/meaning of the Triumphal Way in ancient Rome. ...the route that Piranesi deliniated starts at the Templum Martis and continues until it enters the city at the Porta Triumphalis. ...have to reconsider the "profane to sacred" architectural promenade... ...the realm of the profane and the sacred did invert itself in Rome with the conversion to Christianity from paganism. Perhaps Piranesi is making a commentary on the reversal in ancient Rome's history and its meaning as a city. ...the Templum Jani sits at one of the ends (beginning?) of Piranesi's Triumphal Way, and this gives ground to the backward/forward reversal notion. Perhaps the whole notion of inversion is a dominant theme...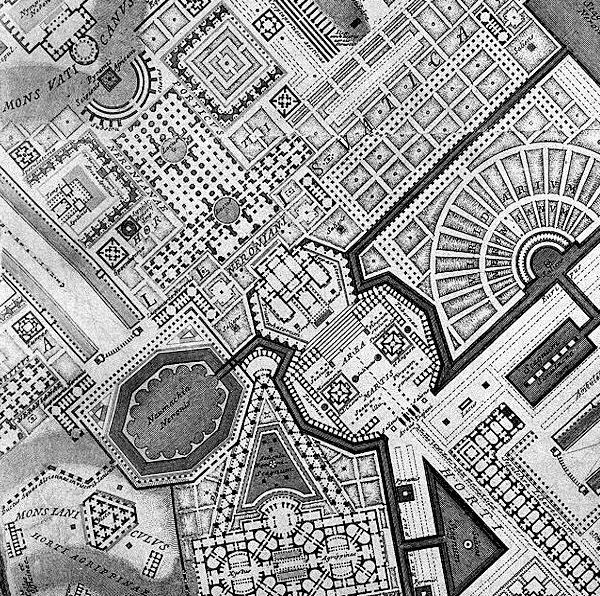 1997.09.07
Campo Marzio - the triumphal way
...in the Plattus text... ...the story about the entrance procession of the Holy Roman Emperor, Charles V in 1536 (nine years after his troops had sacked Rome in 1527). In this procession the route ended at the Vatican/St. Peter's. This brings to mind Piranesi's point of beginning of the Triumphal Way at the Templum Martis, which is very close to the actual site of St. Peter's. Again, there may be a symbolic reversal in the route that Piranesi marks.

...Nero's garden was already the site of Constantine's St. Peter's basilica. Therefore,it may not be all that far-fetched to see Piranesi making symbolic reference to the ancient Roman reversal from paganism to Catholicism. In this sence, the Porticus Neronianae is closer to Old St. Peter's than to the present basilica.