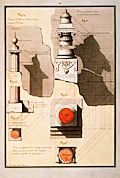 index


1784.
49 Freestanding milliary column decorated with Doric order.

49° Shadow cast from the base on the wall, when it is engaged or applied.

49°° Plan of capital with a dodecagonal section of the column.

50 Detached historical column decorated with Ionic order.

50° Plan of base.

50°° Plan of capital.