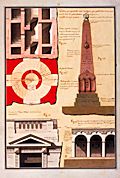 index


73 Vertical section xy of the newel stair with two flights winding one above the other ...

73° Plan of the stairway.

74 Elevation of the funerary monument placed in the quincunx planted with poplars and cypresses.

75 Window of attic storey surmounted by a balustrade.

76 Sizeable portion of the simple stable and mews of the country house, facing the great court ...