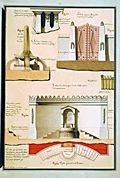 index


1792-93.
77 Fragment of square return of a large public storehouse.

78 Water-jet ofthe basin to distribute the water of the four channels of the kitchen-garden.

79 The so-called Flemish gate of the large kitchen garden.

80 Rostrum for speeches in the round chestnut-tree hall.

81 Overall plan of the rostrum.