stumbled across

by pure chance

webpage starts with a drawing which is a clear and obvious quotation and reference of Piranesi's Campo Marzio. . . The drawing, correctly titled Roma Interrotta iqq19, was featured on quondam.com's homepage circa November 2020. And yes, the drawing is a composite of Ichnographia Campus Martius plus ultra, Judge Harry Pregerson Interchange, Parc de la Villette with a selection of other OMA projects, Apraksin Dvor a OMA project designed by Reinier de Graaf, and the characters of Novel Architecturale.


architect who in the 1990s apparently was among the first ones to interrogate in a very peculiar way, I have to say, the new design tools which were introduced by the computer in the field of architecture. . . Although I was first trained in 2D and 3D Intergraph cadd while working for Cooper and Pratt Architects in 1983, I did not have my own 2D and 3D cad system, Arris, until April 1987. From 1987 to 1990 I worked as Arcadia - Architectural Cad Services, but business evaporated with the recession of 1990. From 1991 onward I used my cad system for purely creative endeavors.

1991.01.01 Museum for Nordrhein Westfalen
1991.04.19 Houses under a Common Roof
1991.06.27 Silent Witnesses
1991.07.05 Villa Savoye
1991.07.09 Palais des Congrès
1991.08.01 Wallraf-Richartz Museum
1991.08.22 Villa Stein de Monzie
1991.08.26 House 10: Museum
1991.10.15 Housing for La Villette
1991.10.16 Maison de l'Homme
1991.10.17 Dominican Motherhouse of the Sisters of St. Catherine de Ricci
1991.10.30 UNEP Headquarters
1991.11.15 Hurva Synagogue
1991.11.19 Ichnographia Campus Martius
1991.11.20 Capital and Parliament Building of West Pakistan
1991.12.02 Tower of Shadows
1991.12.03 Museum of Knowledge
1991.12.07 Wacko House
1991.12.12 Customs Office of the Neue Packhof
1991 12 26 Parthenon Column
1991.12.31 Parthenon Columns at Wall House 2
1991.12.31 Parthenon Columns at Villa Stein de Monzie
1991.12.31 Timepiece Studio
1992.01.02 Parthenon Columns at Museum for Nordrhein Westfalen
1992.01.02 Timepiece as Art
1992.01.11 Broken Temple
1992.01.12 House in Laguna
1992.02.11 Still Life 1
1992.07.01 Parkway Interpolation
1992.08.27 Uber Site
1992.09.24 Danteum
1992.10.29 Museum of Arts and Crafts
investigate the capacity of cad software to reduce all architectural history basically into vector files which can then be recombined in order to obtain new and unexpected wholes. . .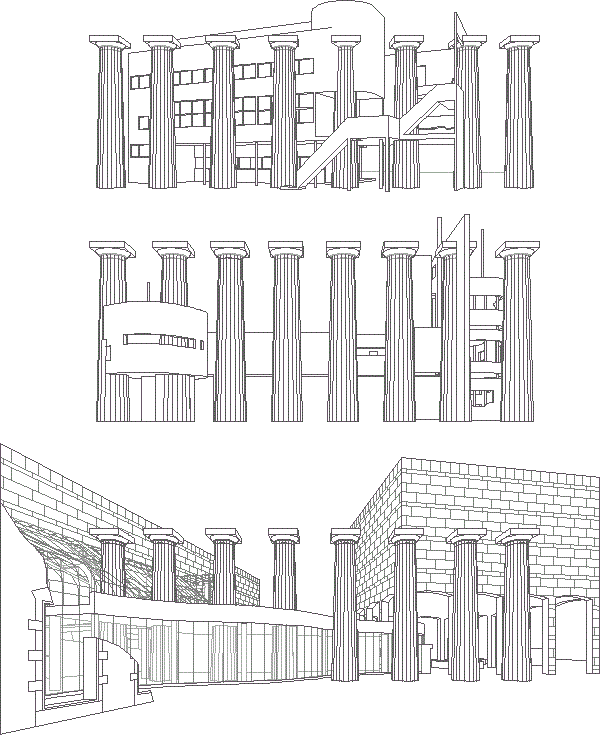 . . .all at the same scale
front row of Parthenon columns
Villa Stein de Monzie
Wall House 2
Museum for Nordrhein Westfalen
New Years 1992