2005.03.13 10:25
public/private culture
John asks:
Wasn't the vile practice of saving facades of historic structures originated in Philadelphia, Steve, the fountainhead of American preservation ever eager to get in bed with real estate vultures?
Steve replies:
Philadelphia doesn't originate anything. It just reenacts things.
For example, when Mitchell/Giurgola Architects saved the Egyptian Revival (or should that be Egyptian Reenactment) facade at the new Penn Mutual Tower (1975), I saw this design solution as a reenactment of the James Stirling with Leon Krier Derby Civic Center competition design (1970) where the facade of an historic Assembly Hall at the site was reused as the facing of a band shelter.
I wonder if the reconstruction of Munich, Germany after the bombing of World War II can also be seen as "the vile practice of saving facades?"
Giurgola reenacts Stirling in at least two other designs: the Adult Learning Research Laboratory (1972) at the American College of Life Underwriters reenacts the Florey Building for Queen's College (1966-71), and the Mission Park Residential Houses (1972) at Williams College reenacts the Student Residences for St. Andrews University (1964-68).
Giurgola didn't know what to do, however, after Stirling saved a crumbling historic facade within the Museum for Nordrhein Westfalen (1975) competition design.
It cracked me up when the new owners of the "historic" Schwarzwald Inn of Olney (in the early 1990s) decided to not change the outside of the beloved old restaurant despite the fact that inside was now a Japanese whore house. Vile is as vile does OR how Philadelphian can you get?
2005.03.13 11:31
Re: Versailles, sigh
Thanks for the Freud references. Lots of food for further thought regarding the Stotesbury story. I have to say, however, that the Freud quotation--
"The Rome Analogy tries to explain how memory works through the analogy of the preservation of the archaeology of Rome. The problem arises when one tries to imagine a Rome in which every building and statue of each period of Roman history is imagined existing complete and at the same time."
--more or less describes exactly what Piranesi already did with the Ichnographia Campi Martii. In fact, a quotation from Freud's Civilization and It's Discontents --
"And now, I think, the meaning of the evolution of civilization is no longer obscure to us. It must present the struggle between Eros and Death, between the instinct of life and the instinct of destruction, as it works itself out in the human species. This struggle is what all life essentially consists of, and the evolution of civilization may therefore be simply described as the struggle for life in the human species."
-- was prelude to the 1999 presentation (in schizophrenia + architectures) of "Eros et Thanatos Ichnographia Campi Martii". Of course, I see this "struggle between Eros and Death" as nothing more than a reenactment of the metabolic process that keeps every human alive.
What interests me more now though, is the notion of Surreal Architecture and how "Here a Versailles (the original Versailles Palace), There a Versailles (Herrenchiemsee), Everywhere a Versailles (Whitemarsh Hall) Sigh" aptly manifests exactly what Surreal Architecture is.
surreal:
1. having qualities attributed to or associated with surrealism
2. having an oddly dreamlike quality.
surreal:
1. characterized by fantastic imagery and incongruous juxtapositions
2: resembling a dream
Versailles Palace as the ultimate absolute monarchy dream existence, and its odd 'place' in Germany's 'rise and fall' history (and don't forget Marie Antoinette was a Hapsburg). And now it's a prosperous tourist destination.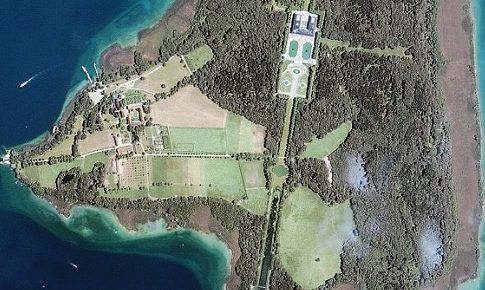 Ludwig II of Bavaria, The Dream King, reenacts Versailles on a Bavarian island, even more opulent than the original Versailles. Ludwig really only stayed there for 10 days, and now it's a prosperous tourist destination.
Whitemarsh Hall, the ultimate American Dream Home, turned derelict palace in suburbia, and at least one architect's "first wet architectural dream come true." No tourism here though, because there isn't much left to see.
Like you suggested earlier, there is a surreal (architecture) thing going on in "Versailles, sigh."
2008.03.13 17:21
Eisenman vs Zumthor theoretical approach
Eisenman: assimilating and metabolic imaginations
Zumthor: assimilating and pre-natal all-frequency imaginations
Eisenman, somewhat still-born
Zumthor, somewhat pregnant


2013.03.13 21:40
13 March
I understand the differences and especially Koolhaas' parallel program strategy, and that's why I spoke of overlapping the two strategies to perhaps then come up with something even more rich.
14031301 Museum for Nordrhein Westfalen Düsseldorf context plans 2226b
14031302 Museum for Nordrhein Westfalen NNTC/Ottopia context plans 2226b
14031303 Museum for Nordrhein Westfalen District Q context plans 2226b
14031304 Museum for Nordrhein Westfalen Pantheon Paradigm context plans 2226b
14031305 Maison Dom-ino plan 2140i12
14031306 Villa Stein de Monzie site plan 2150i08
14031307 Composition Three plan 2155i01
14031308 Villa Savoye site plan 2156i16


15031301 IQ01 novel architecturale plans 2437i00
15031302 Geometry 1979 architecture plans 2091i08
15031303 IQ01 novel architecturale redesign plans 2437i01


15031301 Bruther 50 Housing Units Limeil-Brévannes


16031301 BIG Kalvebod Brygge Towers Copenhagen


17031301 Working Title Museum 005 @ Pantheon Paradigm model work 2379i12
17031302 IQ51 Battery Park City Schizophrenic Folds Working Title Museum 001 ICM plans in progress 2254i06


18031301 Palace of Versailles and Park working plans image 2092i24
18031302 Maison Millennium 003 schematic plan model work 2318i05


19031301 Berlin 1958 plan work 217ii08


20031302 icm domus plans in situ 2110i200