2002.08.06 12:51
the junkspace of Girard Avenue
One forthcoming aspect of "Learning From Girard Avenue" will be a featuring of Girard Avenue's junkspace.
Junkspace, a term coined by Rem Koolhaas circa early 2000, is definitely a component of today's Girard Avenue.
Koolhaas attempted to focus the discussion at In Your Face (NYC, 29 September 2001) on junkspace, that is, after he very obviously moved himself and his chair towards the center of the stage (and away from being too close to Venturi and Scott Brown). The attempt more or less failed, thus leaving Koolhaas more or less (seemingly bitterly) speechless the rest of the symposium. One member of the audience is at least on record reviling Koolhaas for his basically saying that much of the USA today is 'junk'.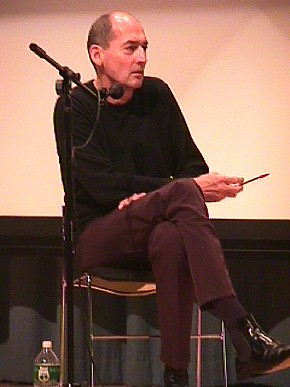 Although I agree that junk usually isn't pretty, if not often pretty ugly, junkspace itself is something that can be found in just about every USA home. Maybe junkspace in the outside world is really just a reflection of how US Americans personally live.
I'm scheduled to soon re-read Koolhaas' Junkspace--it's at least 1.5 years since I last read it. I'm now curious if Fresh Kills Landfill is ever mentioned.
2002.08.06 13:11
Somewhat Incompletely Louis I. Kahn
In doing some research/reading yesterday, I found that Louis Kahn proposed marriage to Esther Israeli at Philadelphia's Rodin Museum. Anyone that has every visited the Rodin Museum in Philadelphia will surely remember the enormous and wonderful Gates of Hell as one enters the museum.


2004.08.06 07:49
Transnational Spaces
Why not ask Native Americans about cultural erasure and placenessness?


2005.08.06 12:21
Dubai: the city of the 21st century!
I heard the Vatican is thinking about buying all the Dubai island reenactments and then build churches on them. It's the only way that they can think of to make the Middle East more Catholic again.
2005.08.06 12:53
Do you remember...
...when 10 year-old you and your 13 year-old brother took the subway by yourselves downtown to go to the movies. Then there wasn't enough money to see It's a Mad, Mad, Mad, Mad World, so you went around the corner and saw From Russia with Love.
"And don't tell mom that we saw this movie instead!"
And then my copybook at school was never the same again, I mean, how many times can you draw


in it?
Next year I was drawing building sections.
But before all that, there was playing miniature golf along the Iron Curtain, dinner in Iceland twice (same waitress--"Otto, why is it always fish?" "Steve, it's an island!"), and still being driven around in a Mercedes-Benz 220S.


2007.08.06 09:02
not looking forward to
I never went to grad school and all I do is "explore and expand upon my most deeply-felt interests."


07080601 Villa Stein des Monzie model 2150i04
2011.08.06 11:25
Quondam's Fifteenth Anniversary
Random Tangents Culture
I suspect Network Culture grew as quickly as it did because the field was already a fertile Random Tangents Culture.
Read this morning:
"...his "visible form" is based on the sensuous experience that emerges only as one moves round and through a building, that changes with ever step, and is effected by the position and intensity of the light sources. In earlier criticism, buildings had been characterized from the point of view of an observer standing motionless and looking at a fašade or an interior from the position of a photographer might choose to obtain the most favorable single view. Frankl's innovation reconstructs the kinetic experience of the observer who arrives at a single image as the product of many partial images.
James Ackerman, "Forward" in Paul Frankl's Principles of Architectural History.
calendrical coincidence - culture - quick deletion - almost just as quick reconstruction - random tangents
Noticed this morning (for the first time I think):
Wolf Meyer-Christian, Design for architectural museum in Berlin (1964)
and
Michael Wagener, Design for architectural museum in Berlin (1964)
in Heinrich Klotz, The History of Postmodernism (1984/1988).
These are student designs from Unger's seminars at the Technical University in Berlin between 1963 and 1968, "they exerted international influence when they appeared in a series of brochures (starting 1965) edited by Ungers. Both designs incorporate the Villa Calandrelli (the Villa Calender?!?), and this adjacency feature reminded me of Stirling's Science Center in Berlin (which I also see as a virtual museum of architecture).
Right around now 10 years ago I received OMA/AMO Rem Koolhaas, Projects for Prada Part 1 in the mail. Along with documentation of one of my favorite (random tangents) building designs--Prada Epicenter Store, San Francisco--there is note of "Content Database" and "Ubiquitous Display" and "Media Stage".
2013.08.06 09:43
Art History
My biggest meme is not "everything is a reenactment." I've been doing a lot of research/analysis regarding reenactment within architectural design over the last 16 years, and I like calling out a reenactment when I see one, but I've never espoused the notion that everything (now) is a reenactment. You can see pretty much all of my research/analysis (so far) here: 50, 51.


17080601 Museum for Nordrhein Westfalen @ Franklin Court east Center City working plans 2226i31 b c
17080602 Museum for Nordrhein Westfalen @ Franklin Court 4400x2200 plans 2226i32
17080603 10x10x10 Cube plan model Tempietto plan model 2232i01 b
17080604 House II model opaque triangles to scale 2211i02


17080601 OMA New Neue Galerie Berlin


18080601 Palace/Park of Versailles @ New Not There City IQ54 55 57 58 plans 2092i42


18080601 Fujimoto Coldefy New courthouse Lille


19080601 ICM plans in situ 2110i167
19080602 diptych plans 206ai09
19080603 domestic site plans iq61 2080i56
19080604 Villa Savoye Villa Shodhan models 2156i28


21080601 museum collection Museum for Nordrhein Westfalen Wallraf-Richartz Museum plans elevations 2226i55
21080602 museum collection Urban Components Pompidou Centre Atheneum plans elevations 221hi03