Brideshead Revisited
2005.08.05 13:00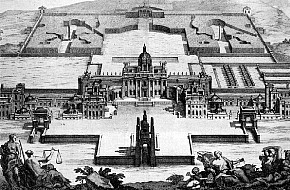 I'm now wondering whether the above image of Castle Howard from Vitruvius Britannicus (published 1715-1725) somehow inspired the architecture of Piranesi as delineated within Il Campo Marzio (1762). Remember the Ichnographia of the Campo Marzio (1757-62) is dedicated to Robert Adam. Did Adam show Piranesi Vitruvius Britannicus while he (Adam) was friends with Piranesi in Rome in the 1750s? In any case, the perspectival vantage point and indeed the architecture depicted within the perspectives of the Campo Marzio very much evoke the Castle Howard aerial perspective, for example the Frontispiece of the Campo Marzio: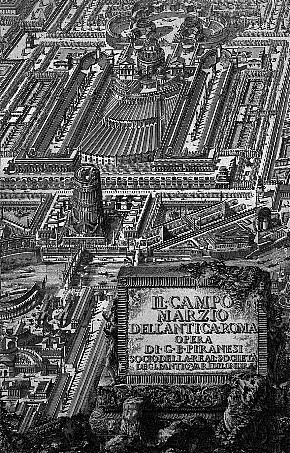 "How Did This Happen Revisited"
2005.08.08 15:58

Last Friday I read about Vitruvius Britannicus in Architectural Theory: from the Renaissance to the Present (Taschen, 2003) and was surprised to learn:

"For Campbell St. Peter's is by no means merely an especially striking expression of architectural abuses on the Continent: it also stands for Italy's cultural decline. As such he emphasizes in his foreword that in the post-Palladian era Italy had not only become estranged from the true "taste of building," but also from the roots of its culture, the Latin language. From this perspective, Italy could no longer be the destination of the Grand Tour. Campbell considers such understandings to be "Mistakes in Education." As the Vitruvius Britannicus is intended to demonstrate, it is now the architects and artists of England who are to take Italy's place as the preservers of timeless, classical taste."

I cannot recall having ever read that Piranesi's [mid-life] oeuvre is in some ways a reaction to Vitruvius Britannicus, but I certainly see [that it coluld be] that way now.
"How Did This Happen Revisited"
2008.08.06 15:09

"...and in 1755 Robert Adam had Kent's Inigo Jones, Campbell's Vitruvius Britannicus and Lord Burlington's Baths, all sent to him in Rome." (London, Guildhall MS 3070 f. 11).