2000.08.08 12:21
Re: Architecture @ Newcastle discussion
Upon first seeing (in print) Michael Wilford's BSC Buildings at Newcastle in the early 1990s, I immediately recognized them as a beautifully evocative and provocative reenactment of Le Corbusier's Heidi Weber Pavilion (Zurich, 1963-67). I especially like Wilford's inversion whereby he creates a positive space (as opposed to positive building) under the separate roof. I admit to being envious of students that are able to study architecture within this small yet delightfully architectural compound, and I have likewise wondered what teaching effect (if any) such a design has on those studying architecture there. (I also have to ask, are the buildings extremely noisy when it rains?)


2001.08.08 14:04
LfLV arrived
...compiling another example of reenactment. If you're familiar with MVRDV's book Costa Iberica: Upbeat To The Leisure City (2000) you will see that they (MVRDV- Dutch architects and quondam Koolhaas employees) pretty much reenact Learning from Las Vegas.


010808a House for Otto studies 2219i02


2002.08.08 20:10
axis of synagogues
Ahavath Israel Synagogue (Kahn's first independent commission) was/is situated within a typical northern Philadelphia block of row homes where it is indeed atypical for a synagogue to be in the middle of the block. Nonetheless, Ahavath Israel is indicative of the large Jewish community living in northern Philadelphia, particularly along the North Broad Street corridor, during the first half of the 20th century. Although a large building within its immediate context, Ahavath Israel represents the smaller type of synagogue intended for more informal daily use by its neighbors.


2007.08.08 11:20
spreading like a virus...(discuss)
No one has yet mentioned the overwhelming desire for newness (parsed with a moderate-to-strong dislike/distrust of things old) which plays a key role in most of modern societies' choices. Sprawl offers that newness. Even small cities have to make themselves "new" to become attractive again.


2007.08.08 12:03
spreading like a virus...(discuss)
[googled "redesigning newness" and received no results]
Redesigning Newness: Architecture's Search for an Answer to Sprawl


2007.08.08 12:11
spreading like a virus...(discuss)
I wouldn't confuse the issue by right away associating 'newness' with 'stuff'. Concentrate on the newness factor, whether it's a brand new home or a renewed central business district, and start to imagine how newness can be somehow packaged differently.


2007.08.08 16:33
spreading like a virus...(discuss)
You could also say that sprawl is driven by the ability of Americans to invest a large amount of money in land/home ownership. Individual land ownership in Europe has always been a minority situation (and still too expensive for most). And you could well say that what became the United States was indeed founded on individual land ownership.


12080801 Mikveh Israel Synagogue Acadia NPHQB site plans 2204i06


13080801 mesh surface perspectives axonometrics 2403i10


14080801 Lauf Haus der Kunst plans study plans models perspectives 2306i12


2014.08.08 16:25
Donald Draper at the Museum...
...of the Human Body?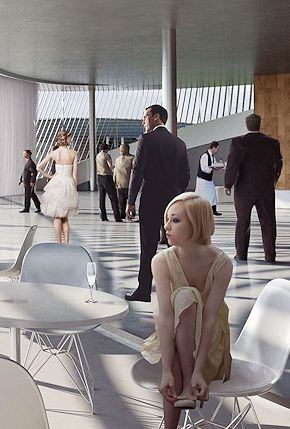 Looks like he's there following Taylor Swift, which makes sense because word is that Draper left advertising and now works undercover for the Fashion Police: Special Victims Unit. "It's very subliminal," said Draper. "We're all here pretending to be interested in the big.dk exhibit."


2014.08.08 17:20
Donald Draper at the Museum...
If I didn't have a shadow I'd be feeling very subliminal too.
2014.08.08 19:03
Donald Draper at the Museum...
And here I thought everyone came here just to look at the pictures. Go figure.


2014.08.08 19:25
Donald Draper at the Museum...
The new Museum will explore the human body from an artistic, scientific and societal approach through cultural activities, interactive exhibitions, performances and workshops.
The 7,800 m² (ca. 84,000 sqf) museum is conceived as a confluence of the park and
the city – nature and architecture – bookending the Charpak Park along with the Montpellier city hall.
The building's program consists of eight major spaces on one level, organically shaped and lifted to form an underlying continuous space.
Multiple interfaces between all functions create views to the park, access to daylight, and optimizing internal connections.
The museum's roof functions as an ergonomic garden – a dynamic landscape of vegetal and mineral surfaces that allow the park's visitors to explore and express their bodies in various ways – from contemplation to the performance – from relaxing to exercising – from the soothing to the challenging.
The façades of the Museum of the Human Body are transparent, maximizing the visual and physical connection to the surroundings.
On the sinuous façade that oscillates between facing North and South, East and West, the optimum louver orientation varies constantly, protecting sunlight, while also resembling the patterns of a human fingerprint – both unique and universal in nature.
The jury, headed by the City's Mayor Ms Hélène Mandroux, chose BIG over 5 other shortlisted international teams and praised BIG's design for combining innovative, environmental and functional qualities.
The new Museum will contribute to Montpellier's rich scientific and cultural heritage, attracting tourists, families, as well as school classes, academics and art lovers. Construction is scheduled to start in 2016, and the building will open its doors to the public in 2018.
BIG + A+Architecture + Egis + Base + L'Echo + Celsius Environnement + CCVH
Partners in Charge: Bjarke Ingels, Andreas Klok Pedersen
Project Leader: Gabrielle Nadeau
Project Manager:Jakob Sand
Team: Birk Daugaard, Chris Falla, Alexandra Lukianova, Oscar Abrahamsson, Katerina Joannides, Aleksander Wadas, Marie Lançon, Danae Charatsi, Alexander Ejsing.
Client: Ville de Montpellier
Draper's presence at the museum is obviously symbolic of big manly things.


2014.08.08 19:40
Donald Draper at the Museum...




"So what then is architecture? Is it a hard, 'simple', 'natural' protective shell that engenders the continuation of life? Or is it a soft formlessness forever (re-)designing an applied shell it doesn't naturally have?"

Remember 20 November 2013?
or
09050201.db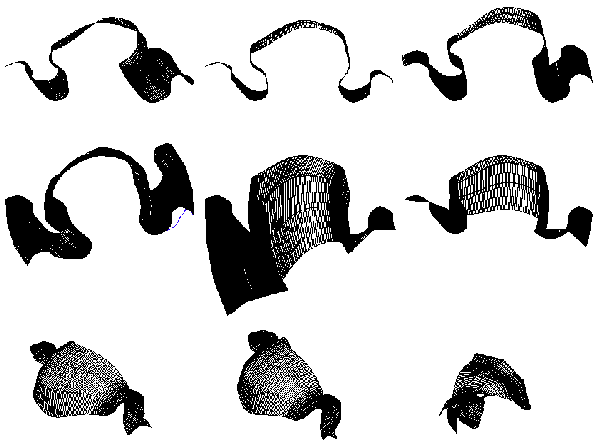 2014.08.08 20:07
Donald Draper at the Museum...
It turns out there is something fishy about all this. The same image from big.dk does not feature Donald Draper.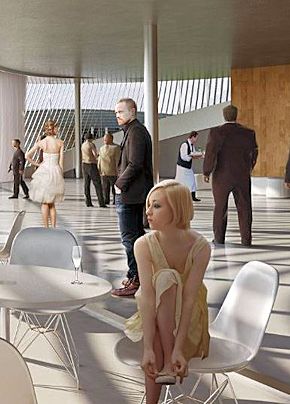 Yet the same image featured today at afasiaarq does feature Donald Draper.
The woman in the white dress in both images still appears to be Taylor Swift however.
2014.08.08 14:56
8 August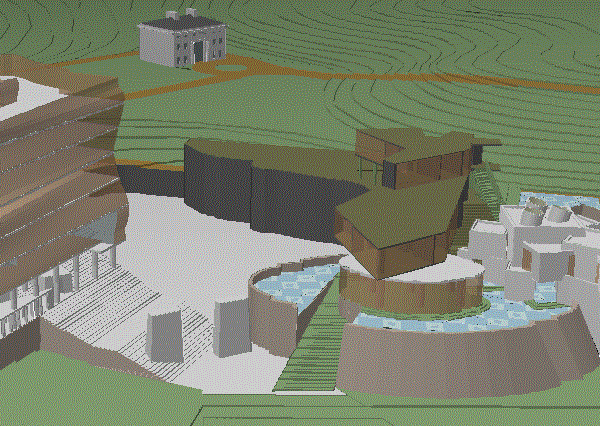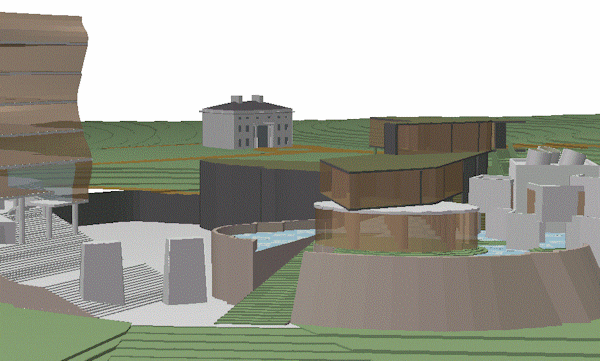 From parks to museums and then cemeteries: our travels through the scriptures of myth--travels in mythic topography--now makes landfall on the obscure shores of memory and oblivion par excellence. In the "beginnings," architectural works arose to be the dwellings of the gods and the dead. Now, while we are on the threshold of the embalmment of our environment and the paradoxical project for its total conservation, it may be of use to study the relation between the architectural work and the space of death. This reflection of ours could be fittingly prefaced by a quotation from Ernst Jünger's Second Parisian Diary: "Our attachment to museums corresponds, on a lower level, to the Egyptian cult of the dead. What for them was the mummy of the human image is with us the mummification of culture; and what for them was metaphysical Angst is for us historical Angst: not to see our magical expression dissolving in our growing lucidity--this is our concern."
...the fragment used to suggest the loss of a whole. Isn't this the meaning of that macabre practice which led to the heart of Voltaire being kept in the Bibliotheque Nationale in Paris, and his brain being sold by auction in 1875? The "part standing for the whole"--pars pro toto--is one of the commonest tropes in poetic language. It is termed synecdoche.
Fragments of a funerary discourse, Architecture as a work of mourning (1983)


14080801 ?
14080802 Peter Zumthor Los Angeles County Museum of Art Los Angeles


18080801 Eclectic Houses Egyptian 1 model work 223ai09


19080801 ICM stadium plans orthagonal 2110i169
19080802 ICM nympheum plans orthagonal 2110i170
19080803 ICM plans orthagonal 2110i171
19080804 ICM plans orthagonal 2110i172
19080805 diptych plans 2188i04