001017d Ichnographia Quondam preliminary studies 2392i07


031017a Parkway Interpolation plan model 2278i04 b c


041017a Benjamin Franklin Parkway plans model 2342i21 b
041017b Benjamin Franklin Parkway Franklin's Footpath plans 2093i13
041017c Parkway Interpolation plans 2342i22
041017d Parkway Interpolation plans 2342i23
041017e Philadelphia Museum of Art plan 2142i04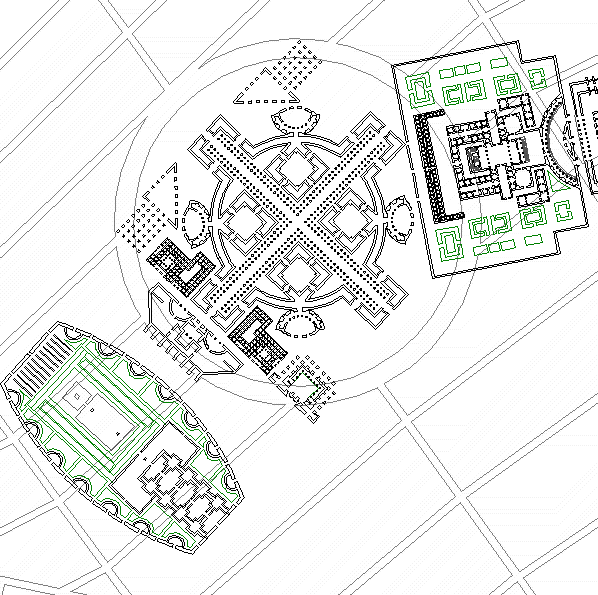 001017d.db
2007.10.17 15:18
historical reenactment picture of the day
This is what I saw last night:
Daniella Mericle's two-channel video from her 2006 project History Sighs presents fixed-frame landscape views from original, antipodal landing sites of colonial conquest. The sun sets over the Arabian Sea, (filmed from Gujarat, where the British first made contact with Indian soil) as it rises over the Atlantic Ocean from Salt River Bay, St. Croix (a Columbus landing site and setting of the first-known violent confrontation between Europeans and American natives). Mericle's exploration of these two locations prompts speculation about history's ability to manifest its theoretical and material legacy within the physical landscape.
I told the artist her work had an interesting reenactionary quality (to which she agreed completely), and how some degrees of separation collapsed by now standing next to her while the sun was rising and setting again.


2007.10.17 18:18
The Vanity Press
The Journal of Artificial Parameters constantly asks for my work, and I keep telling them I prefer the work remain virtual.
2009.10.17 11:08
Duchamp to direct THE LUCKY BUMS
"The same "sense of loss" that supports history and mourning also supports the damnatio memoriae, which is both an enforced and denied nostalgia. There must be a sense that something has fallen out of representation, that it was at one time but it is no longer--a sense that something has been lost. If not, then memory truly fails and with it the force of the damnatio memoriae. The force of the rehabilitation has much more to do with the re-enactment of the death and condemnation of Flavian than with an account of the events of 394. The survivors have always remembered Flavian, but it is only after the rehabilitation that they can "satisfy the debt of duty owed the dead"--that is, acknowledge the irremediable fact of his loss, through the act of mourning. The writing of history, too, is motivated more by guilt and a desire to mourn than by a desire merely to evoke. The survivor is the one who remains to see that the proper rites are performed for the dead and for that part of the self which has perished, and in the end compulsively to rehearse that loss once again by writing the history" [re-accurately].
--CWH [SL]
The virgin wolfs, the Hirpini and the snails (spirialling), at the end of the axis of war.
So there was a connotation after all.
The Eutropia question.
"You do know the Sabine word for wolf, don't you?"
The Jennewein question.
"Is the axis of war the sacred axis or the profane axis?"
The Adam obsevation.
"Look, she dropped another hair pin."
The Duchamp question.
"Are reenactments virtual or real?"
13101701 Mausoleum of Romulus Circus of Maxentius Basilica Sessorianum Arch of Janus Quadrifrons Basilica of St. Agnes Mausoleum of Constantina Basilica of Maxentius/Constantine plans 206bi09
13101702 Pantheon Circus and Tomb of Hadrian Mausoleum of Romulus Circus of Maxentius Basilica of Sts. Peter and Marcellius Basilica of St. Agnes Mausoleum of Constantina plans 206ei06


14101701 House 10: Museum model elevation 2197i12
14101702 House 15 model elevation 2208i05
14101703 Gallertese Housing elevation 2214i02
14101704 ICA House elevation model orthagonal 2270i02


15101701 BIG Kistefos Museum Jevnaker


16101701 IQ45 Temple of Venus and Rome Basilica of Maxentius/Constantine Danteum 5233 Farnsworth House Palace of Assembly Museum of Knowledge Tower of Shadows Urban Components Houses for Karl Friedrich Schinkel House of Shadows Bye Le Composites Jung Zaha House Cubist ICM 206hi18


18101701 IQ15 hyperarchitecturism Analogous Museum of Architecture Acropolis of Contemporary Art ASouq Neighborhoods House for Karl Friedrich Schinkel 004 House for Karl Friedrich Schinkel 001 Neue Staatsgalerie Dresdner Bank Housing for La Villette UNEP Headquarters Wallraf-Richartz Museum Breslauer Platz Olivetti Headquarters Milton Keynes Florey Building Cambridge History Faculty Building Leicester University Engineering Building Ichnographia Campus Martius Philadelphia Tempietto Baths of Constantine Stonehenge plans 247bi08


19101701 Villa Savoye Palace of Assembly plans 2156i29


21101701 Roma Antica etc Appian Way Colosseum Pantheon Temple of Venus and Rome Minerva Medica Circus of Maxentius Tomb of Romulus Arch of Janus Quadrifrons Thermae Helenae Basilica of Maxentius/Constantine Arch of Constantine Baths of Constantine Basilica of Sts. Peter and Marcellinus Mausoleum of Helena Basilica Sessorianum Basilica of St. Agnes Mausoleum of Constantina Tempietto Palace/Park of Versailles Ichnographia Campus Martius plans Capitoline Hill Foro Romano Roma Interrotta images 2063i03 b