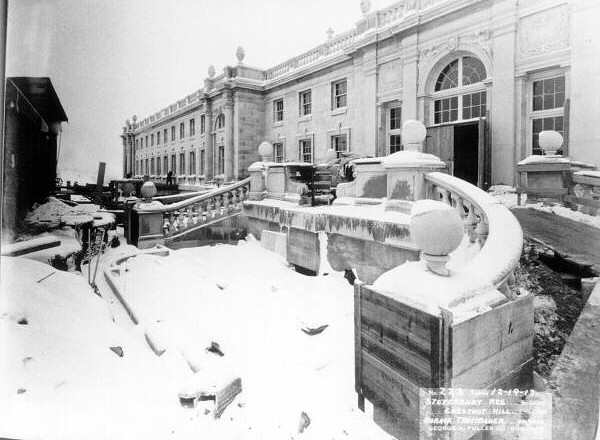 Horace Trumbauer, Whitemarsh Hall (Wyndmoor, PA: under construction, 1917.12.19)
99121901 Arcadia Pavilion plan, model perspectives axonometrics 2258i01
99121902 Salmon's kitchen plan development
99121903 Wallraf-Richartz Museum, perspective 2227i02


2001.12.19 12:44
Re: CAD DATA
I'm currently working through a new idea regarding Piranesi in that what we see of his work is more like a shadow of his real "draughtsmanship". The bulk of Piranesi's real work is the collection of engraved copper plates themselves. The prints that we see are more like a reflection/shadow of the real work. Piranesi's real draughtsmanship exists on/within the copper plates.
041219a Romaphilia selected landmarks Parkway Vatican Bustum Hadriani Independence Mall etc. 2348i10


12121901 mesh surface model (all single lines) perspective 2402i17 b
12121902 Wave Wall House 2 model 2410i01


15121901 Parkway Interpolation most complete plan 13022301 model 2278i16 b c
15121902 Sober House 1 ist floor plan 2286i09


16121901 GAUA 104 level one schematic model 2458i10
16121902 GAUA 104 level one schematic model opaque off
16121903 GAUA 104 level one axonometrics raw 2458i11
17121901 Gothenburg Law Courts plan section elevation 216ci01
17121902 Palace of Versailles at Philadelphia Museum of Art Parkway Interpolation IQ0 IQ 18 19 22 23 plans 8800x4400
17121903 Palace of Versailles at Philadelphia City Hall IQ 19 plans
17121904 Palace of Versailles at Independence Hall Mikveh Israel Synagogue IQ 16 20 plans 8800x4400


17121901 EM2N New Hotel Munich
17121902 Steven Holl Institute for Contemporary Art at VCU Richmond


18121901 GAUA11 Arch of Constantine Tugendhat House De Vore House Kimbell Art Museum National Museum of Roman Art Museum of Architecture Analogous Building Working Title Museum 004 Savoye Shadows Annexation plans placed 2429i381


19121901 Fragmented Architectural History Department perspectives 2485i09


20121901 iqq18 plan work images 2468i116