Jacques de Beaujeu
architect.
He was maître d'œuvre (architect) of the cathedral of Lyons, France. In 1389 he built the portal of the Pont du Rhône at Lyons. February 24, 1392, he contracted to build the great rose window of the façade of the cathedral.


Nicolò de'Bonaventuri
architect.
Nicoló came from Paris, and was the first foreign architect employed on the cathedral of Milan (begun 1386). He joined the works May 7, 1389. July 6 he was appointed ingeguere generale. He was chiefly occupied with the construction of the great piers, which were probably begun before he came to Milan.


Claux Sluter (Nicolas)
sculptor (imagier); d. 1404 or 1405.
Philippe le Hardi, Duke of Burgundy, founded the Chartreuse of Champmol at the gates of Dijon (Côte-d'Or, France), in 1383. To build and decorate this monastery, with its church and his own monument, he called together many of the best architects and sculptors of his time, chief of whom were Andre de Dammartin, Jean de Marville, and Claux Sluter. Jean de Marville directed the sculptors until his death in 1389, when Claux Sluter of the Comté d'Hollande took control. The earliest of the sculptures of the Chartreuse are the figures on the portal of the church. Of these the Madonna is probably by de Marville, but the splendid statues of Philippe le Hardi, his Duchess Marguerite de Flandre, S. Jean and S. Marguerite are by Sluter. Sluter's most characteristic work is the so-called Puits de Moïse (Well of Moses). This was intended to be the base of a Calvary (crucifixion group) which stood in the cloister of the Chartreuse. The design of this work is by Sluter. He was assisted by his nephew, Claux de Werwe, who in 1398 began to take control of the work. The great monument of Philippe le Hardi in the museum at Dijon was undoubtedly designed and begun by Sluter, but the sculpture itself, especially the famous pleurants (mourners) about the base, is the work of Claux de Werwe. In 1404 Sluter retired to the Abbey of S. Étienne at Dijon, where he died.


Column from the Cathedral of Toledo.
Seroux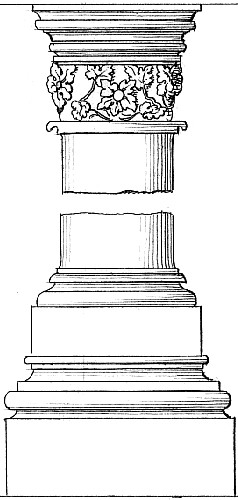 Base and capital from the Cathedral of Toledo in Spain.
Seroux