Pierino Buonaccorsi (Ferino del Vaga of Florence)
painter and decorator; b. 1499; d. 1547.
One of the assistants of Raphael in decorating the Stanze and Loggie at the Vatican. After the sack of Rome, in 1527, Perino entered the service of the great Admiral Andrea Doria in Genoa, in whose palace he decorated the vestibule, a loggia, and a series of apartments in the second story. He returned to Rome, and for Paul III (Pope 1534-1549) and the Farnese family made designs for numerous crystals, embroideries, stuccoes, carvings in wood and stone, etc.


Danese Cattaneo (da Carrara)
architect, sculptor, and poet; b. about 1509; d. 1573.
He was established first in Rome, but went to Venice with Giacomo Sansovino after the sack of Rome in 1527. He assisted Sansovino at the Doge's palace, the Librería di S. Marco, the loggia of the Campanile and the Zecca (mint). Cattaneo wrote a poem in twenty -four cantos entitled L' Amor di Marfisa.


Pieter Koeck van Aalst
painter and architect; b August 14, 1502.
Studied in Italy, and on his return established himself at Aalst, Holland, as architect and painter. He translated Vitruvius and Serlio into Dutch.


Raffaello da Montelupo
sculptor; b. 1505; d. 1557.
A fragment of Montelupo's Autobiography is published by Gaye, and translated by Perkins (Tuscan Sculptors, Vol. II., p. 72). Montelupo is best known as one of the chief assistants of Michelangelo Buonarroti. He made, under his direction, the statue of S. Damiano in the new sacristy of S. Lorenzo in Florence (for the statue of S. Cosmo, (see Giovanni Montorsoli). February 27, 1542, he contracted to finish three statues for the tomb of Julius II, by Michelangelo. He made several bas-reliefs for the Casa Santa at Loreto. Montelupo assisted Bandinelli in the completion of the tomb of Leo X, at the church of S. Maria Sopra Minerva in Rome, and designed the monument of Baldassare Turini at the cathedral of Pescia. He assisted in defending the Castello di S. Angelo during the siege of Rome in 1527. He died at Orvieto while assisting Sanmicheli, and Simone and Francesco Mosca in the construction of the altar of the Magi in the cathedral.


Symon Vitecoq
architect.
June 29, 1527, he succeeded Roullant Leroux as maître de l'œuvre architect of the cathedral of Rouen (France). With Guillaume Dodemont he completed the church of S. Jean at Rouen in 1547.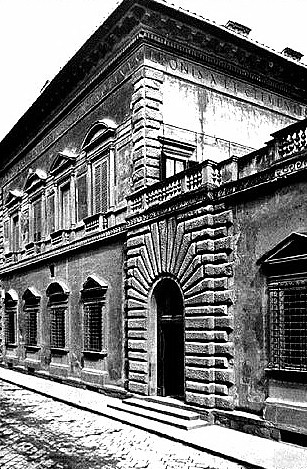 Raffaello Santi, Palazzo Pandolfini (Florence: 1520-7).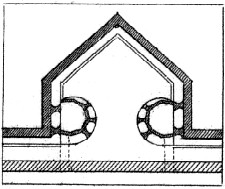 Bastion called La Maddalena, near the porta del Vescovo, constructed in 1527, one of the first angular bastions.
Seroux